Where is God?

By Ken Blue
"…My tears have been my meat day and night, while they continually say unto me, Where is thy God?" Psalm 42:3. "Then Jesus turned, and saw them following, and saith unto them, What seek ye? They said unto him, Rabbi, (which is to say, being interpreted, Master,) where dwellest thou? He saith unto them, Come and see…" John 1:38,39.
Very little is more painful than memories of former days when we experienced the joy and personal fellowship with God and His people, then discover all has been destroyed by our enemies. To add to David's pain, he was taunted daily by his enemies with, "Where is God?"
That question has been asked by millions. When life seems to be at its worst, then the taunt, "where is thy God?", usually follows. But, God was there all the time, though we may not be aware of His presence.
God is there all the time…
Israel in Egypt 400 years- I am sure God was forgotten by many Israelites. No doubt they were taunted every day with, "Where is God?"      Yet, He was there all the time. First, he led them there to protect them, and allow them to multiply. Next, He led them out to make a great nation of them. God was with them every day although they didn't know it.
The Red Sea- When Israel came to the Red Sea, the Egyptian armies were hot on their heels, and the Red Sea lay before them. It appeared that they were trapped. Many ask, "Where is God?" He was there all the time. The sea opened to let Israel cross, and it closed to destroy Egypt's army.
Bitter water- Soon Israel was out of drinking water. They came to a pool that appeared to solve the problem, but the water was poison. Where was God in their time of need? Moses was instructed to cut a branch from a tree and cast it into the water. The water was healed, and all could drink. God was there all the time.
Water from a rock– Some days later, they were in need of water again, but this time there wasn't a pool nearby. Moses was commanded to strike the rock. He did, and water came powering out. Where was God? He was there all the time.
Time would fail to tell of the Manna, and the quail, of Daniel's captivity in Babylon, of Queen Esther, the birth of Christ, the death of Christ, the Resurrection of Christ, the absence of Christ, the Tribulation, the Second Advent of Christ, your sickness, and your death. He was there, and is still there all the time! Trust Him.  Where is God?  "…he hath said, I will never leave thee, nor forsake thee." Hebrews 13:5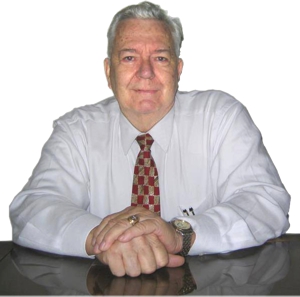 Pastor Ken Blue was born in Boswell, Ark. In 1955 he accepted Christ as his Savior. He and his wife Joyce were married in 1955. They have 5 children. He graduated from Midwestern Baptist Bible College in 1969 and started the Open Door Baptist Church in Lynnwood, Wa. where he pastored for 39 years. Because of health issues (ALS) he was forced to resign as pastor. It is his desire to continue to be used of God to help pastors and believers through this ministry.