GOD'S PLAN FOR SAMSON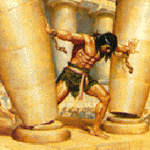 By Ken Blue
"And Samson said, Let me die with the Philistines. And he bowed himself with all his might; and the house fell upon the lords, and upon all the people that were therein. So the dead which he slew at his death were more than they which he slew in his life. Then his brethren and all the house of his father came down, and took him, and brought him up, and buried him between Zorah and Eshtaol in the buryingplace of Manoah his father. And he judged Israel twenty years." Judges 16:30-31.
The parents of Samson had to be delighted and proud of their little boy. The nature of the announcement by the Angel of the Lord, and the fact that he was a Nazarite from his birth must have kindled all manner of hopes in their heart.
But Samson was a paradox and an enigma. He had the power of God upon his life, in spite of the times he broke the Nazarite vow or disobeyed Old Testament Scripture. He was a man of great faith and is named among those in Faith's Hall of Fame, in Hebrews 11.
God had a plan for Samson to deliver Israel from Philistine oppression. We are confident that Samson was unaware of that plan. However, one thing we learn is that God can take man's failures and disobedience and use them to accomplish His overall plan. God's will was to deliver Israel from the Philistines. Samson seemed to care less that he lived under slavery and idolatry. His only revenge on the Philistines was for their mistreatment of him. He would get even.
First of all, he married a Philistine woman. This must have severely grieved his parents. But, that did not matter to him for he said, "Get her for me." That short marriage ended in disaster and death to many, including his wife and her family.
Then we find him spending the night with a harlot in Gaza. She, no doubt betrayed him and informed the Philistines of his presence. Then there was another woman by the name of Delilah. She too, would betray Samson for a large sum of money and deliver him to the Philistines to be put to death. It is obvious that Samson had serious moral and women problems. Evidently, none of them loved him.
Samson broke his Nazarite vow when he touched the dead lion and the jawbone of an ass. Only one prayer of his is recorded, and God answered it. Also, his vow was broken when his hair was cut. It was at this point "…he wist not that the LORD was departed from him." Judges 16:20.
What a sad story. Here he is, the great Samson, who could have done so much more for the Lord. His head is shaved, he is bound like an animal, and his eyes have been gouged out. He is as helpless as a child. All the lords of the Philistines have gathered at the great coliseum to celebrate and praise their God, Dagon and be entertained by the enemy of their nation.
A youth leads Samson from his place of confinement. He asks the young man to allow him to lean against the pillars that support the coliseum. It is there, Samson calls upon the Lord to avenge his two eyes and let him die with the Philistines. This was Samson's last act, and he brought the house down.
There are many lessons that could be learned from the life of Samson, but it is enough to know that God's plan and purpose will be accomplished. Therefore, Christian, do not fret about the enemy or how it appears things in life are going. God is in charge and his purpose is right on track and on time. Let us be sure that we do not abuse the power and position granted us. We should not overlook all the sorrow Samson must have brought to his family and friends.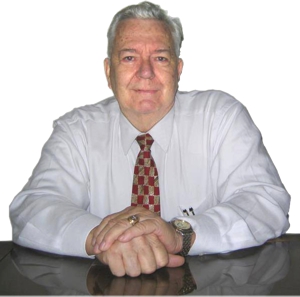 Pastor Ken Blue was born in Boswell, Ark. In 1955 he accepted Christ as his Savior. He and his wife Joyce were married in 1955. They have 5 children. He graduated from Midwestern Baptist Bible College in 1969 and started the Open Door Baptist Church in Lynnwood, Wa. where he pastored for 39 years. Because of health issues (ALS) he was forced to resign as pastor. It is his desire to continue to be used of God to help pastors and believers through this ministry.