ONE WITNESS SHALL NOT RISE UP AGAINST A MAN FOR ANY INIQUITY …]
 FIVE COMMANDS — BEARING FALSE WITNESS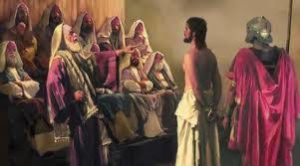 ONE WITNESS SHALL NOT RISE UP AGAINST A MAN TO CONDEMN HIM FOR ANY CRIME. AT THE MOUTH OF TWO OR THREE WITNESSES SHALL A MATTER BE ESTABLISHED (DEUT. 19:15; CP. DEUT. 17:6).
IF A FALSE WITNESS RISES UP AGAINST A MAN TO TESTIFY AGAINST HIM, BOTH MEN SHALL BE BROUGHT BEFORE THE LORD AND BEFORE THE PRIESTS AND JUDGES TO SETTLE THE CONTROVERSY (DEUT. 19:16-17).
THE JUDGES SHALL CROSS EXAMINE BOTH MEN AND IF THE WITNESS IS FOUND TO BE FALSE, AND HAS SOUGHT TO INJURE HIS NEIGHBOR, HE SHALL BE PUNISHED IN THE SAME WAY THAT HE THOUGHT TO PUNISH HIS NEIGHBOR (DEUT. 19:18-19).
THOSE THAT REMAIN SHALL HEAR OF THE JUST JUDGMENT, AND SHALL FEAR, AND REFRAIN FROM SUCH WICKEDNESS (DEUT. 19:20).
YOUR EYE SHALL NOT PITY THE FALSE WITNESS WHO HAD NO PITY FOR HIS NEIGHBOR, BUT YOU SHALL METE OUT TO HIM THE PUNISHMENT HIS NEIGHBOR WOULD HAVE RECEIVED HAD HE BEEN CONVICTED — LIFE FOR LIFE, EYE FOR EYE, TOOTH FOR TOOTH, HAND FOR HAND, AND FOOT FOR FOOT (DEUT. 19:21).
HOW THE INNOCENT COULD LEGALLY BE PUT TO DEATH UNDER THE LAW OF TWO OR MORE WITNESSES.
AHAB WAS A WICKED KING IN ISRAEL. HE COVETED THE VINEYARD NEXT TO THE KING'S PALACE OWNED BY RIGHTEOUS NABOTH. THE KING OFFERED TO BUY IT, BUT NABOTH REFUSED TO SELL IT. THE KING WAS DEPRESSED OVER THIS REJECTION. AHAB'S WIFE, WICKED JEZEBEL, ASSURED HIM SHE WOULD GET THE VINEYARD FOR HIM. THE PLOT AND RESULTS ARE IN THE FOLLOWING VERSES.
1 KINGS 21: "BUT JEZEBEL HIS WIFE CAME TO HIM, AND SAID UNTO HIM, WHY IS THY SPIRIT SO SAD, THAT THOU EATEST NO BREAD?  AND HE SAID UNTO HER, BECAUSE I SPAKE UNTO NABOTH THE JEZREELITE, AND SAID UNTO HIM, GIVE ME THY VINEYARD FOR MONEY; OR ELSE, IF IT PLEASE THEE, I WILL GIVE THEE ANOTHER VINEYARD FOR IT: AND HE ANSWERED, I WILL NOT GIVE THEE MY VINEYARD.  AND JEZEBEL HIS WIFE SAID UNTO HIM, DOST THOU NOW GOVERN THE KINGDOM OF ISRAEL? ARISE, AND EAT BREAD, AND LET THINE HEART BE MERRY: I WILL GIVE THEE THE VINEYARD OF NABOTH THE JEZREELITE. SO SHE WROTE LETTERS IN AHAB'S NAME, AND SEALED THEM WITH HIS SEAL, AND SENT THE LETTERS UNTO THE ELDERS AND TO THE NOBLES THAT WERE IN HIS CITY, DWELLING WITH NABOTH.  AND SHE WROTE IN THE LETTERS, SAYING, PROCLAIM A FAST, AND SET NABOTH ON HIGH AMONG THE PEOPLE:  AND SET TWO MEN, SONS OF BELIAL, BEFORE HIM, TO BEAR WITNESS AGAINST HIM, SAYING, THOU DIDST BLASPHEME GOD AND THE KING. AND THEN CARRY HIM OUT, AND STONE HIM, THAT HE MAY DIE.  AND THE MEN OF HIS CITY, EVEN THE ELDERS AND THE NOBLES WHO WERE THE INHABITANTS IN HIS CITY, DID AS JEZEBEL HAD SENT UNTO THEM, AND AS IT WAS WRITTEN IN THE LETTERS WHICH SHE HAD SENT UNTO THEM.  THEY PROCLAIMED A FAST, AND SET NABOTH ON HIGH AMONG THE PEOPLE.  AND THERE CAME IN TWO MEN, CHILDREN OF BELIAL, AND SAT BEFORE HIM: AND THE MEN OF BELIAL WITNESSED AGAINST HIM, EVEN AGAINST NABOTH, IN THE PRESENCE OF THE PEOPLE, SAYING, NABOTH DID BLASPHEME GOD AND THE KING. THEN THEY CARRIED HIM FORTH OUT OF THE CITY, AND STONED HIM WITH STONES, THAT HE DIED." THUS, THE DEMANDS OF THE LAW WERE MET. NABOTH WAS DEAD, AND AHAB OWNED THE VINEYARD." 1 Kings 21:5-13.
HOWEVER, EVEN TWO WITNESS DID NOT ALWAYS PROTECT THE INNOCENT. THERE WERE TWO WITNESS AGAINST JESUS, THUS HE WAS CRUCIFIED. "NOW THE CHIEF PRIESTS, AND ELDERS, AND ALL THE COUNCIL, SOUGHT FALSE WITNESS AGAINST JESUS, TO PUT HIM TO DEATH; BUT FOUND NONE: YEA, THOUGH MANY FALSE WITNESSES CAME, YET FOUND THEY NONE. AT THE LAST CAME TWO FALSE WITNESSES." MATTHEW 26:59-60. THE LAW WAS MET; THE SON OF GOD WAS CONDEMNED AND CRUCIFIED.
IS THERE A FOOLPROOF SYSTEM ON THIS EARTH? THERE IS NOT, BUT THIS IS THE BEST.
THERE IS ANOTHER JUDGMENT AWAITING ALL. FOR THE UNSAVED: "AND I SAW A GREAT WHITE THRONE, AND HIM THAT SAT ON IT, FROM WHOSE FACE THE EARTH AND THE HEAVEN FLED AWAY; AND THERE WAS FOUND NO PLACE FOR THEM.  AND I SAW THE DEAD, SMALL AND GREAT, STAND BEFORE GOD; AND THE BOOKS WERE OPENED: AND ANOTHER BOOK WAS OPENED, WHICH IS THE BOOK OF LIFE: AND THE DEAD WERE JUDGED OUT OF THOSE THINGS WHICH WERE WRITTEN IN THE BOOKS, ACCORDING TO THEIR WORKS.  AND THE SEA GAVE UP THE DEAD WHICH WERE IN IT; AND DEATH AND HELL DELIVERED UP THE DEAD WHICH WERE IN THEM: AND THEY WERE JUDGED EVERY MAN ACCORDING TO THEIR WORKS.  AND DEATH AND HELL WERE CAST INTO THE LAKE OF FIRE. THIS IS THE SECOND DEATH.  AND WHOSOEVER WAS NOT FOUND WRITTEN IN THE BOOK OF LIFE WAS CAST INTO THE LAKE OF FIRE." REVELATION 20:11-15.
FOR THE SAVED: "BUT WHY DOST THOU JUDGE THY BROTHER? OR WHY DOST THOU SET AT NOUGHT THY BROTHER? FOR WE SHALL ALL STAND BEFORE THE JUDGMENT SEAT OF CHRIST." ROMANS 14:10. "FOR WE MUST ALL APPEAR BEFORE THE JUDGMENT SEAT OF CHRIST; THAT EVERY ONE MAY RECEIVE THE THINGS DONE IN HIS BODY, ACCORDING TO THAT HE HATH DONE, WHETHER IT BE GOOD OR BAD." 2 CORINTHIANS 5:10.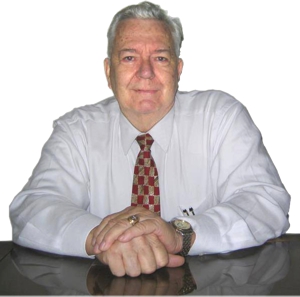 Pastor Ken Blue was born in Boswell, Ark. In 1955 he accepted Christ as his Savior. He and his wife Joyce were married in 1955. They have 5 children. He graduated from Midwestern Baptist Bible College in 1969 and started the Open Door Baptist Church in Lynnwood, Wa. where he pastored for 39 years. Because of health issues (ALS) he was forced to resign as pastor. It is his desire to continue to be used of God to help pastors and believers through this ministry.