THE DISPENSATION OF GRACE #6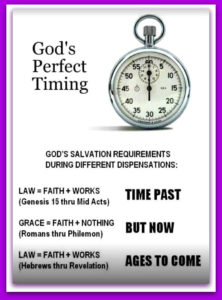 In this Dispensation neither Jews nor Gentiles are dealt with as such: but, individuals, both "transgressors" of the Jews and "sinners of the Gentiles," are called out, and made into a new body, a third People, called "the Church of God," in which now "there is neither Jew nor Gentile…but all are one in Christ Jesus"; being baptized into the body of Christ with the new spiritual medium, the Holy Spirit.  "For ye are all the children of God by faith in Christ Jesus.  For as many of you as have been baptized into Christ have put on Christ.  There is neither Jew nor Greek, there is neither bond nor free, there is neither male nor female: for ye are all one in Christ Jesus.  And if ye be Christ's, then are ye Abraham's seed, and heirs according to the promise." Galatians 3:26-29. The baptism in the text is when the Holy Spirit baptizes the believer at conversion into the body of Christ. There is no water in the text.
THE CHURCH OR DISPENSATION OF GRACE HAD BEEN KEPT SECRET UNTIL IT WAS REVEALED TO PAUL AND MADE KNOWN BY THE PROPHETS AND APOSTLES IN "PROPHETIC WRITINGS" Had it been made the subject of prophecy the Jew, to-day, could reply against God and say that He was obliged to fulfil prophecy. It was therefore "hid in god" " And to make all men see what is the fellowship of the mystery, which from the beginning of the world hath been hid in God, who created all things by Jesus Christ:" Ephesians 3:9 . GOD KEPT THE SECRET TO HIMSELF.  One of these secrets, the "Great" one (1 Tim 3:16; Eph 5:32), has been revealed; and we now rejoice in its revelation.
THIS DISPENSATION OF "THE CHURCH OF GOD," OF "THE GRACE OF GOD," AND OF THE "SPIRIT OF GOD" COMMENCED BY THE MINISTRY OF PAUL. Paul wrote all the church epistles, they, all doctrine for the church is contained in his writings. These were given by inspiration and revelation to him. That does not mean the church should ignore any Scripture. It only needs to take heed that it RIGHTLY DIVIDES them.
THE ONLY REQUIREMENT FOR SALVATION IS. BELIEVE THE GOSPEL, AS REVEALED TO PAUL.  "Moreover, brethren, I declare unto you the gospel which I preached unto you, which also ye have received, and wherein ye stand;  By which also ye are saved, if ye keep in memory what I preached unto you, unless ye have believed in vain.  For I delivered unto you first of all that which I also received, how that Christ died for our sins according to the scriptures;  And that he was buried, and that he rose again the third day according to the scriptures…" 1 Corinthians 15:1-4I.
  THIS DISPENSATION WILL END BY THE MEMBERS OF CHRIST'S BODY BEING "RECEIVED UP IN GLORY,"   "CAUGHT UP TO MEET THE LORD IN THE AIR, SO TO BE EVER WITH THE LORD"  PHIL 3:20,21).  "But I would not have you to be ignorant, brethren, concerning them which are asleep, that ye sorrow not, even as others which have no hope.  For if we believe that Jesus died and rose again, even so them also which sleep in Jesus will God bring with him.  For this we say unto you by the word of the Lord, that we which are alive and remain unto the coming of the Lord shall not prevent them which are asleep.  For the Lord himself shall descend from heaven with a shout, with the voice of the archangel, and with the trump of God: and the dead in Christ shall rise first:  Then we which are alive and remain shall be caught up together with them in the clouds, to meet the Lord in the air: and so shall we ever be with the Lord.  Wherefore comfort one another with these words." I Thessalonians 4:13-18.  " For our conversation is in heaven; from whence also we look for the Saviour, the Lord Jesus Christ:  Who shall change our vile body, that it may be fashioned like unto his glorious body, according to the working whereby he is able even to subdue all things unto himself." Philippians 3:20-21. This is called in 2 Thessalonians 2:1, "our gathering together unto Him."
Before this Dispensation, and after it, all is connected with man, and what he is and what he is to do. But, in this Dispensation, it is a question of what Christ is, and of what He has done. J.O.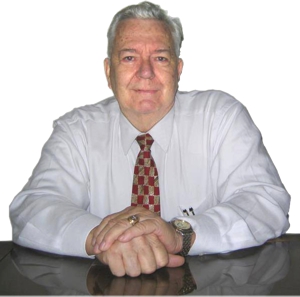 Pastor Ken Blue was born in Boswell, Ark. In 1955 he accepted Christ as his Savior. He and his wife Joyce were married in 1955. They have 5 children. He graduated from Midwestern Baptist Bible College in 1969 and started the Open Door Baptist Church in Lynnwood, Wa. where he pastored for 39 years. Because of health issues (ALS) he was forced to resign as pastor. It is his desire to continue to be used of God to help pastors and believers through this ministry.