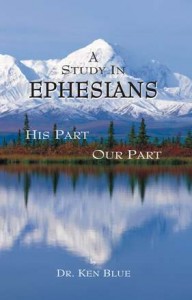 THE STANDING OF THE BELIEVER
The Believer's Abundant Possessions v.3. The blessings of the believer are spiritual and eternal, thus they stand in contrast to the blessings of Israel, which are earthly and temporal. It is true, God has blessed us with the daily blessings of food, clothing, comfort and friends. For these, we must praise Him.  Note David's thanksgiving to God for His benefits. Psalm 68:19 "Blessed be the Lord, who daily loadeth us with benefits, even the God of our salvation. Selah." Psalm 103:2 "Bless the Lord, O my soul, and forget not all his benefits:" Psalm 116:12 "What shall I render unto the Lord for all his benefits toward me?" Thank God for His many blessings. However, we must be very careful in how we obtain and view these material blessings. There is the danger of assuming that we are spiritual or favored by God because of our abundance. Paul speaks of this in 1 Tim. 6:5 where he says some men suppose "that gain is godliness: from such withdraw thyself." The church of the Laodiceans were blinded by their riches and possessions and failed to see they were spiritually destitute. May God help us not to make the same mistake.
Our blessings are spiritual and are secure. They never fade away.  All others, we may lose. We are blessed with "all spiritual blessings." They are too numerous to mention. Many are recorded in these three chapters. Some are:
Spiritual birth– This is the new birth from above.
The Holy Spirit– God is a Spirit and dwells in all believers.
Peace with God– Peace is intangible, but it is very real. Spurgeon said, "When I look at Jesus, the dove of peace lights on my shoulder. When I look at the dove, she     flies away." Thank God for His wonderful peace.
Prayer– Oh, the privilege of prayer! This is sweet communion with the Heavenly Father. Is there a greater spiritual exercise? I know of none.
Justification-Every believer stands before the bar of God completely justified. There is no sin that can be brought against him. Jesus Christ has paid for ALL sin.
Sealed by the Holy Spirit– This seal is spiritual and is God's proof of ownership of each believer.
Citizenship in Heaven– We are now citizens of two countries.
Home in Heaven– Our home in heaven is as real as the one we possess here on earth. It is spiritual yet, it is real.
Abundant Grace– There is no limit to God's vast supply of Grace. All is of grace!
Sanctified in Christ– Our position in Christ is as secure as Christ Himself and it is spiritual.
Access into His presence– We may come into the throne room of God anytime, day or night.
Fellowship with Christ– The Believer may have a fellowship with Christ the world knows nothing of. This too, is spiritual and real.
All are spiritual and all are found in the Lord Jesus  Christ who is seated at the right hand of the Father in heavenly places. If we are to experience these blessings, we must set our affection on Him who sits at the right hand of the Father. All our blessings are in Him and are ours as we set our affections on things above.
           The Believer's Above Position- "who hath blessed us with all spiritual blessings in heavenly places"
1            In Heaven- The location of the believer's citizenship is in heaven. There are three heavens listed same also that ascended up far above all heavens, that he might fill all things." This is the "above" heavens. It is there, the Head of the Church sits. We know there are at least three heavens, for Paul speaks of being caught up to it. 2 Cor. 12:2 "I knew a man in Christ above fourteen years ago, (whether in the body, I cannot tell; or whether out of the body, I cannot tell: God knoweth;) such an one caught up to the third heaven." It is above these, the believer now sits with him. It is there we are to "set our affections." (Phil. 3:20; Eph. 1:22; Col. 3:1). The Christian is to be so "heavenly minded" that he is no earthly good. Heaven is our home. Are you homesick yet? In the Word of God. (2 Cor. 12:2). Christ is above all heavens. Ephes. 4:10 "He that descended is the
In Christ- Our blessings are in heaven and they are all "in Christ." Christ is our 'all in all' He is everything for us. 1 Corinthians 1:30 "But of him are ye in Christ Jesus, who of God is made unto us wisdom, and righteousness, and sanctification, and redemption:" Ephesians is the "in" book. In 1:1,3,4,6,7,10,11,13. 2:6,10,13,21,22. 3:6,12. The reader will note that all the references to us being in Christ are in the doctrinal section of this epistle. Not once does Paul speak of Christ in the believer in the practical section. II Corinthians 12:2 says, "I knew a man in Christ above fourteen years ago, (whether in the body, I cannot tell; or whether out of the body, I cannot tell: God knoweth;) such an one caught up to the third heaven." Not only are our blessings in heaven, in Christ, we are also in Him! Eph. 2:6 "And hath raised us up together, and made us sit together in heavenly places in Christ Jesus:" This is the "above position" of the believer.
Heaven is not a state of mind. It is a place. Jesus said it was a place. He said He came from heaven and was returning there. He assured those who followed Him that they too would be welcome there. Paul was caught up to the third heaven and saw things that he could not utter.  John, the writer of Revelation, was caught up to heaven and shown things to come. Jesus Christ is now seated in heaven and the believer is seated there in Him. Take it by faith and rejoice!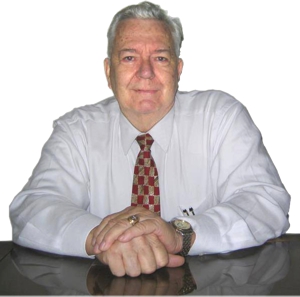 Pastor Ken Blue was born in Boswell, Ark. In 1955 he accepted Christ as his Savior. He and his wife Joyce were married in 1955. They have 5 children. He graduated from Midwestern Baptist Bible College in 1969 and started the Open Door Baptist Church in Lynnwood, Wa. where he pastored for 39 years. Because of health issues (ALS) he was forced to resign as pastor. It is his desire to continue to be used of God to help pastors and believers through this ministry.