THE FIFTH SUCCESSION OF ISRAEL'S PUNISHMENT
The fifth succession of Israel's punishments is found in Lev. 26:27-39. The fifth succession begins with the Assyrian/Babylonian captivities, (Some believe it began with Egypt,) and continues until the Second Advent of Christ, which ends the "times of the Gentiles" and the Day of the Lord. (Tribulation.) All the curses in Leviticus 26:27-39 will be found from the captivities until the Second Advent.
As one reads these warnings and promises, he cannot help but be appalled. We post them here. "And if ye will not for all this hearken unto me, but walk contrary unto me;  Then I will walk contrary unto you also in fury; and I, even I, will chastise you seven times for your sins.  And ye shall eat the flesh of your sons, and the flesh of your daughters shall ye eat.  And I will destroy your high places, and cut down your images, and cast your carcases upon the carcases of your idols, and my soul shall abhor you.  And I will make your cities waste, and bring your sanctuaries unto desolation, and I will not smell the savour of your sweet odours.  And I will bring the land into desolation: and your enemies which dwell therein shall be astonished at it.  And I will scatter you among the heathen, and will draw out a sword after you: and your land shall be desolate, and your cities waste.  Then shall the land enjoy her sabbaths, as long as it lieth desolate, and ye be in your enemies' land; even then shall the land rest, and enjoy her sabbaths.  As long as it lieth desolate it shall rest; because it did not rest in your sabbaths, when ye dwelt upon it.  And upon them that are left alive of you I will send a faintness into their hearts in the lands of their enemies; and the sound of a shaken leaf shall chase them; and they shall flee, as fleeing from a sword; and they shall fall when none pursueth.  And they shall fall one upon another, as it were before a sword, when none pursueth: and ye shall have no power to stand before your enemies.  And ye shall perish among the heathen, and the land of your enemies shall eat you up.  And they that are left of you shall pine away in their iniquity in your enemies' lands; and also in the iniquities of their fathers shall they pine away with them." Leviticus 26:27-39.
Most of these are behind them and can be found in those books which cover this period. As one reads the book of Isaiah, Jeremiah, Lamentations and Ezekiel, he can see the unbelievable misery Israel endured. However, Jesus warns Israel the worst is yet to come upon them.
In Matthew 24 Jesus describes some of the things the Jews can expect in the Day of the Lord. "For then shall be great tribulation, such as was not since the beginning of the world to this time, no, nor ever shall be.  And except those days should be shortened, there should no flesh be saved: but for the elect's sake those days shall be shortened." Matthew 24:21-22. The end of this fifth succession of punishments on Israel will be worse than all that has preceded it. In fact, if those days were not limited to the seven year period, no Jew would be left alive. The Bible tells us that only one third of the Jews will survive the Tribulation. As the wickedness of Israel exceed the nations around them, so is it now and will be through the Tribulation. Israel is give the name, Sodom and Egypt in the Revelation. God's two witnesses will be killed by the unbelieving Jews and their dead bodies will be left in the street to rot. The corrupt city is designated, "And their dead bodies shall lie in the street of the great city, which spiritually is called Sodom and Egypt, where also our Lord was crucified." Revelation 11:8.
God's fury and wrath will allow their Gentile enemies to slaughter them until only one third remains. "And it shall come to pass, that in all the land, saith the LORD, two parts therein shall be cut off and die; but the third shall be left therein.  And I will bring the third part through the fire, and will refine them as silver is refined, and will try them as gold is tried: they shall call on my name, and I will hear them: I will say, It is my people: and they shall say, The LORD is my God." Zechariah 13:8-9.
Jesus will lead this third in battle and defeat all the nation that come up against Israel. "Behold, I will make Jerusalem a cup of trembling unto all the people round about, when they shall be in the siege both against Judah and against Jerusalem.  And in that day will I make Jerusalem a burdensome stone for all people: all that burden themselves with it shall be cut in pieces, though all the people of the earth be gathered together against it.  In that day, saith the LORD, I will smite every horse with astonishment, and his rider with madness: and I will open mine eyes upon the house of Judah, and will smite every horse of the people with blindness.  And the governors of Judah shall say in their heart, The inhabitants of Jerusalem shall be my strength in the LORD of hosts their God.  In that day will I make the governors of Judah like an hearth of fire among the wood, and like a torch of fire in a sheaf; and they shall devour all the people round about, on the right hand and on the left: and Jerusalem shall be inhabited again in her own place, even in Jerusalem.  The LORD also shall save the tents of Judah first, that the glory of the house of David and the glory of the inhabitants of Jerusalem do not magnify themselves against Judah.  In that day shall the LORD defend the inhabitants of Jerusalem; and he that is feeble among them at that day shall be as David; and the house of David shall be as God, as the angel of the LORD before them." Zechariah 12:2-8. Thus, the five succession of punishment will end. (Leviticus 26:14-39).
This remnant will repent and accept Jesus as their Messiah King. The reign of the Gentiles over Israel will end forever. Jesus will begin to organize and establish His Kingdom of Heaven on earth.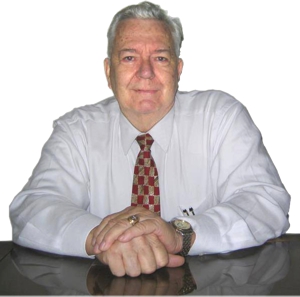 Pastor Ken Blue was born in Boswell, Ark. In 1955 he accepted Christ as his Savior. He and his wife Joyce were married in 1955. They have 5 children. He graduated from Midwestern Baptist Bible College in 1969 and started the Open Door Baptist Church in Lynnwood, Wa. where he pastored for 39 years. Because of health issues (ALS) he was forced to resign as pastor. It is his desire to continue to be used of God to help pastors and believers through this ministry.