By Ken Blue
Perhaps there is no greater insult to Biblical Christianity than the preachers who go about the country preaching a prosperity and healing theology. These fools believe if you find a verse teaching healing or success, it applies to them and to all who follow them as long as they have faith and send money. Their "name it and claim it" teaching is not only unscriptural, it is shameful and destructive.
Christians need to understand that the four Gospels and the book of Acts is a transition period from the Old Covenant, made with Israel, to the New Covenant promised to Israel. ("Behold, the days come, saith the LORD, that I will make a new covenant with the house of Israel, and with the house of Judah: 32 Not according to the covenant that I made with their fathers in the day that I took them by the hand to bring them out of the land of Egypt; which my covenant they brake, although I was an husband unto them, saith the LORD: 33 But this shall be the covenant that I will make with the house of Israel; After those days, saith the LORD, I will put my law in their inward parts, and write it in their hearts; and will be their God, and they shall be my people. 34 And they shall teach no more every man his neighbour, and every man his brother, saying, Know the LORD: for they shall all know me, from the least of them unto the greatest of them, saith the LORD: for I will forgive their iniquity, and I will remember their sin no more." Jeremiah 31:31-34).
In that dispensation, signs, miracles, wonders and healings were present to prove to Israel that Jesus was the promised Christ of the Old Testament. If Israel would have repented and received Jesus as their King, He would have returned and established His kingdom on earth through them. They did not, and the offer with all its signs, wonders and miracles was withdrawn. They, the signs and miracles, were not transferred to the church and they do not exist in this dispensation of grace! After the rapture of the church, God will once again jump start His kingdom offer to Israel, and those miracles and wonders will be in force again. That period is explained in the book of Hebrews through Revelation, which are written for the Jews in the Tribulation and the Kingdom.
[pullquote align="full" cite="" link="" color="" class="" size=""]There is no greater insult to Biblical Christianity than the preachers who go about the country preaching a prosperity and healing theology.[/pullquote]
When God said to Paul that His grace was sufficient for him, He was doing more that encouraging him. God was explaining that a new method of dealing with men and women, in this dispensation of grace, was under way. This explains why the blind, the deaf, the cripple, the dead and those with terminal diseases are not healed today. You may disagree with me, but if you believe the miracles of the Kingdom offer are still present; can you give me the name and address of one believer, you personally know, who can raise the dead, heal AIDS patients, restore the terminally ill and the retarded? Do you personally know anyone who can walk on water, feed a multitude with a handful of food or turn the water to wine? Why not? Didn't Jesus tell His disciples that they would do greater miracles than He did? (John 14:12). In fact, if it was not for the grace of God and modern medical science, most people over 40 would be dead!
We must also pity those few Baptist who are caught up in this error. They display their ignorance by carrying their little bottle of olive oil and anointing the sick. Why? Because they do not understand to whom and in which dispensation the book of James belongs. James was written to the Jews."James, a servant of God and of the Lord Jesus Christ, to the twelve tribes which are scattered abroad, greeting." James 1:1. You probably are not a Jew; if you are, you don't know which tribe you belong and how on earth you were scattered? The key to this dilemma is right divisions. Do not despair, dear Christian, or fall for the healing hoax. God's wonderful grace is sufficient!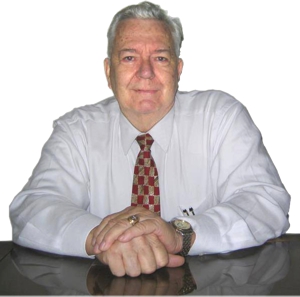 Pastor Ken Blue was born in Boswell, Ark. In 1955 he accepted Christ as his Savior. He and his wife Joyce were married in 1955. They have 5 children. He graduated from Midwestern Baptist Bible College in 1969 and started the Open Door Baptist Church in Lynnwood, Wa. where he pastored for 39 years. Because of health issues (ALS) he was forced to resign as pastor. It is his desire to continue to be used of God to help pastors and believers through this ministry.