THE DOUBTS OF JOHN THE BAPTIST, AND JESUS DEFENSE OF JOHN THE BAPTIST
"And it came to pass, when Jesus had made an end of commanding his twelve disciples, he departed thence to teach and to preach in their cities.
2 Now when John had heard in the prison the works of Christ, he sent two of his disciples, 3 And said unto him, Art thou he that should come, or do we look for another? 4 Jesus answered and said unto them, Go and shew John again those things which ye do hear and see: 5 The blind receive their sight, and the lame walk, the lepers are cleansed, and the deaf hear, the dead are raised up, and the poor have the gospel preached to them. 6 And blessed is he, whosoever shall not be offended in me.
7 And as they departed, Jesus began to say unto the multitudes concerning John, What went ye out into the wilderness to see? A reed shaken with the wind? 8 But what went ye out for to see? A man clothed in soft raiment? behold, they that wear soft clothing are in kings' houses. 9 But what went ye out for to see? A prophet? yea, I say unto you, and more than a prophet. 10 For this is he, of whom it is written, Behold, I send my messenger before thy face, which shall prepare thy way before thee. 11 Verily I say unto you, Among them that are born of women there hath not risen a greater than John the Baptist: notwithstanding he that is least in the kingdom of heaven is greater than he. 12 And from the days of John the Baptist until now the kingdom of heaven suffereth violence, and the violent take it by force. 13 For all the prophets and the law prophesied until John. 14 And if ye will receive it, this is Elias, which was for to come. 15 He that hath ears to hear, let him hear.
16 But whereunto shall I liken this generation? It is like unto children sitting in the markets, and calling unto their fellows, 17 and saying, We have piped unto you, and ye have not danced; we have mourned unto you, and ye have not lamented. 18 For John came neither eating nor drinking, and they say, He hath a devil. 19 The Son of man came eating and drinking, and they say, Behold a man gluttonous, and a winebibber, a friend of publicans and sinners. But wisdom is justified of her children.
20 Then began he to upbraid the cities wherein most of his mighty works were done, because they repented not: 21 Woe unto thee, Chorazin! woe unto thee, Bethsaida! for if the mighty works, which were done in you, had been done in Tyre and Sidon, they would have repented long ago in sackcloth and ashes. 22 But I say unto you, It shall be more tolerable for Tyre and Sidon at the day of judgment, than for you. 23 And thou, Capernaum, which art exalted unto heaven, shalt be brought down to hell: for if the mighty works, which have been done in thee, had been done in Sodom, it would have remained until this day. 24 But I say unto you, That it shall be more tolerable for the land of Sodom in the day of judgment, than for thee." Matthew 11:1-24
Note:
Matthew's gospel is written to present Jesus as Israel's Messiah and King. " Rejoice greatly, O daughter of Zion; shout, O daughter of Jerusalem: behold, thy King cometh unto thee..". Zechariah 9:9. (See Matt. 21:4). He begins with the genealogy, and worship of the King. Next, His forerunner, His baptism, and His temptation. The principles of the Kingdom, and the King proclaimed to Matthew 16:20.
Verse 1.
After sending forth His disciples, Jesus also went into the cities preaching and teaching. There is a difference between preaching and teaching. All preaching must contain teaching. However, teaching differs from preaching. Every Pastor must be apt to teach. Preaching usually calls for some response or decision, whereas, teaching is the imparting of information, example, and instruction. Jesus taught the Twelve, but He preached to the multitudes.
Verses 2-6.
John was cast into prison because he preached against sin. " For Herod himself had sent forth and laid hold upon John, and bound him in prison for Herodias' sake, his brother Philip's wife: for he had married her." Mark 6:17.
In chapter 4:12, we have the first mention of John's imprisonment. John was having doubts if Jesus was the Messiah. That is strange when one considers all the proof he had before being put in prison. John knew nothing about the coming death of Jesus, nor did he ever preach it. It is noteworthy that Jesus did not give a yes or no answer. Rather, He quoted Old Testament Scripture to confirm that He was the Messiah. "Then the eyes of the blind shall be opened, and the ears of the deaf shall be unstopped. 6 Then shall the lame man leap as an hart, and the tongue of the dumb sing: for in the wilderness shall waters break out, and streams in the desert." Isaiah 35:5-6. If one reads the context of Isaiah, he will see that the Kingdom of Heaven, and the King is the subject. The gospel preached is the gospel of the Kingdom. Those who will be blessed, will not stumble at the person of the Christ.
 Verses 7-15.
In these verses Jesus defends the ministry of John, and shows from Old Testament Scripture that John was the forerunner of the King. The Lord rebukes those who questioned, or rejected John's ministry.
There was a vast difference between John's ministry and manner of life, and that of Jesus. John spent much time in the wilderness, was dressed in camel skins, and ate locus and wild honey. (Matthew 3:4; Mark1:6). John not only came in the spirit of Elijah, his life style may have also resembled him.
John was the forerunner of the King. His ministry was not to offer the Kingdom, but to prepare a people for the King. His was the baptism of repentance, the requirement for entrance into the Kingdom of Heaven offered by Jesus. John did no miracles, was not in the Kingdom of Heaven, nor the church which is the body of Christ, and he knew nothing of the upcoming death of Christ. The part of the Law and the prophecies about the forerunner and the King were fulfilled with the advent of John. However, the Old Testament Law did not end at the coming of John.
The greatness of John is seen in the nature of his ministry. He was the one who prepared a people for the Kingdom. However, the least who would be in the Kingdom of Heaven was greater, in possession, than John.
The reference to "the violent" taking the Kingdom by force, means that men were responding to John's preaching in such a manner, as a crowd "pressing" entrance. Or it could refer to the Pharisees. (Luke 16:14-16).
Verses 16-19.
The Lord indicts the nation of Israel by comparing it to rebellious little children who would not accept their part in the games they played. John was not a socialite, so the religious leaders accused him of having a devil. Jesus, ate and drank with sinners, and they accused Him of being a glutton and a drunk. Both accusations were untrue. Although the ministries, and actions of Jesus and John were poles apart, both were sent by God, and did the work of God. There is a lesson here for us.
 Verses 20-24
These verses show that the miracles of Jesus and the disciples did not bring Israel to repentance. The major reason for Israel's persecution in the past, present and future is because they reject God's Word, and crucified their King.  "Then answered all the people, and said, His blood be on us, and on our children." Matthew 27:25. This was their answer about His crucifixion. As wicked as Sodom was, it will receive less judgment in hell than those who rejected their King and Savior.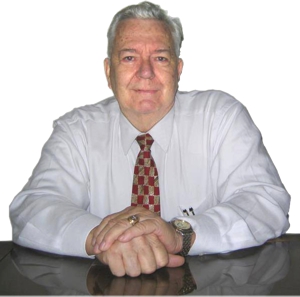 Pastor Ken Blue was born in Boswell, Ark. In 1955 he accepted Christ as his Savior. He and his wife Joyce were married in 1955. They have 5 children. He graduated from Midwestern Baptist Bible College in 1969 and started the Open Door Baptist Church in Lynnwood, Wa. where he pastored for 39 years. Because of health issues (ALS) he was forced to resign as pastor. It is his desire to continue to be used of God to help pastors and believers through this ministry.