By Ken Blue
Our dear brother, Dr. Newell went home to be with the Lord March, 21, 2014. I loved him  very much. He was indeed, a true soldier of the cross. We will miss him.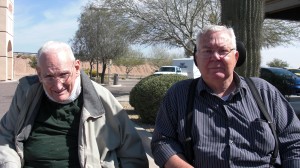 Dr. Newell Ken Blue
One of the joys of our vacation this winter was to visit and spend time with my good friend, Dr. Clell Newell. Other than church, our favorite meeting place was at the Cracker Barrel Restaurant in Casa Grande. Az.
Brother Newell served in the 2nd World War, and he was saved at age 47, in 1969. In 1972 he and Mary left for Bible College. He served as assistant pastor Dr. W. E. Dowell, Pastor of Baptist Temple Springfield, Mo. Dr. Newell later served with me at Open Door for several years, and then he traveled to New Zealand where he served as a missionary with Pastor Shane Montgomery. He moved to Casa Grande in 2005 where he is now serving with Pastor Shane Montgomery.
Brother Newell has been a true friend to me, and I thank God for his fellowship and friendship. Dr. Newell is 88 years old and is in poor health. Please continue to pray for him. He is made of the stuff that will not allow him to give up until he is taken up. The world and the church would be much richer if it had more men like Dr. Clell Newell. God bless you my dear brother.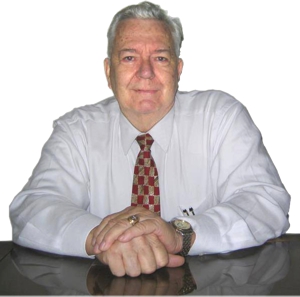 Pastor Ken Blue was born in Boswell, Ark. In 1955 he accepted Christ as his Savior. He and his wife Joyce were married in 1955. They have 5 children. He graduated from Midwestern Baptist Bible College in 1969 and started the Open Door Baptist Church in Lynnwood, Wa. where he pastored for 39 years. Because of health issues (ALS) he was forced to resign as pastor. It is his desire to continue to be used of God to help pastors and believers through this ministry.