Roman Catholic Heresies.
By Ken Blue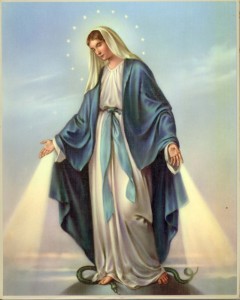 Roman Catholic Heresies stand greater in number than Hindu religion practices of idol worship. This is concerting given the fact that Hindus have more gods than people.  Also, it is impossible to show anyone their errors when they have multiple authorities. As soon as you show one their error, they shuttle off to another authority. The one verse that would help Catholics understand the Bible is, " Study to shew thyself approved unto God, a workman that needeth not to be ashamed, rightly dividing the word of truth." 2 Timothy 2:15. But, of course, they won't read it. They trust their church more than they trust the Bible, or God.
You will notice in the above picture, Mary stands on the whole world, and crushes a serpent under her feet. Also, the light to the world comes from her hands, and there are twelve stars around her head. This is one of the greatest abuses of Scripture anywhere on earth. First, the woman in Genesis 3 is not Mary, but the nation of Israel. Revelation 12 shows her again as the nation of Israel. Anyone who can, and will read the context will see that there is nothing in either text about Mary. This Roman Catholic Heresy of worshipping a female deity goes far beyond the Catholic Church. It goes back to Babylon in the book of Genesis.
No idols. "Thou shalt not make unto thee any graven image, or any likeness of any thing that is in heaven above, or that is in the earth beneath, or that is in the water under the earth: 5  Thou shalt not bow down thyself to them, nor serve them: for I the LORD thy God am a jealous God, visiting the iniquity of the fathers upon the children unto the third and fourth generation of them that hate me; 6  And shewing mercy unto thousands of them that love me, and keep my commandments." Exodus 20:4-6.
Call no man father. This is in the spiritual sense. "And call no man your father upon the earth: for one is your Father, which is in heaven." Matthew 23:9.
Praying to the saints. "Abraham saith unto him, They have Moses and the prophets; let them hear them. 30  And he said, Nay, father Abraham: but if one went unto them from the dead, they will repent. 31  And he said unto him, If they hear not Moses and the prophets, neither will they be persuaded, though one rose from the dead." Luke 16:29-31. The Bible is to be read for answers. No one contacts the dead
Mary not a mediator. "For there is one God, and one mediator between God and men, the man Christ Jesus;" 1 Timothy 2:5.
No purgatory. "… the rich man also died, and was buried; 23 And in hell he lift up his eyes, being in torments, and seeth Abraham afar off, and Lazarus in his bosom." Luke 16:22-23. Purgatory is an invention of the church to get money from grieving souls. There is no purgatory. You go straight to heaven, or straight to HELL.
No praying for the dead. "…"Abraham saith unto him, They have Moses and the prophets; let them hear them." Luke 16:29. The living are instructed to go to the Bible for answers.
Peter, married, not a pope. " But Simon's wife's mother lay sick of a fever, and anon they tell him of her." Mark 1:30. Peter disappears after Acts 15. Wonder where he went?
No such thing as transubstantiation. "When Jesus knew in himself that his disciples murmured at it, he said unto them, Doth this offend you? 62  What and if ye shall see the Son of man ascend up where he was before? 63  It is the spirit that quickeneth; the flesh profiteth nothing: the words that I speak unto you, they are spirit, and they are life. 64  But there are some of you that believe not. For Jesus knew from the beginning who they were that believed not, and who should betray him." John 6:61-63. A piece of bread never becomes the flesh of Jesus Christ, nor does a sip of hooch become His blood.
Perpetual virginity. "I am become a stranger unto my brethren, and an alien unto my mother's children. 9  For the zeal of thine house hath eaten me up; and the reproaches of them that reproached thee are fallen upon me." Psalm 69:8-9.
Use of holy water. For proof, see Job 1:1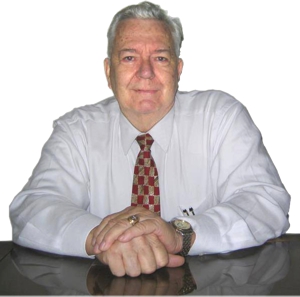 Pastor Ken Blue was born in Boswell, Ark. In 1955 he accepted Christ as his Savior. He and his wife Joyce were married in 1955. They have 5 children. He graduated from Midwestern Baptist Bible College in 1969 and started the Open Door Baptist Church in Lynnwood, Wa. where he pastored for 39 years. Because of health issues (ALS) he was forced to resign as pastor. It is his desire to continue to be used of God to help pastors and believers through this ministry.