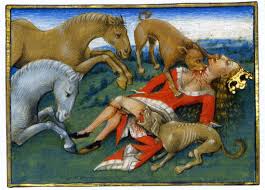 By Ken Blue
"And they went to bury her: but they found no more of her than the skull, and the feet, and the palms of her hands." 2 Kings 9:35.
I can't remember a time when we didn't own a dog or two. They make great pets, and I enjoyed training and, working with them. Someone has said that a dog is man's best friend. A good test is to lock your wife and your dog in the trunk of the car. Open it after thirty minutes, and see who is the happiest to see you. You'll have a greater appreciation for your dog after that experiment.
However, there is a negative side to dogs also.
Dogs can be disgusting much of the time. In fact, there are very few things they will refuse to eat. They are meat eaters, and are attracted to the smell of blood. That is what makes the above text so interesting.
Jezebel may have been the most wicked, and the most corrupt woman who ever lived. I have yet to find any child who was so named by their parents. Her vile nature is also demonstrated in that the dogs refused to eat the spawning ground where her wickedness originated.
The dogs would not eat her skull. It was as if divine providence made it repulsive to them. Her brain was the incubator that hatched every form of wickedness and cruelty imaginable. It was there, she plotted the death of God's prophets. It was in her immoral and twisted mind she established the worship of Baal. The dogs must have been repulsed at the skull that gave birth to the plot to have righteous Naboth killed, and his land stolen by her wicked husband, Ahab. Thus, against their nature, they refused to eat her wicked skull.
The second thing the dogs refused were her feet. Those feet were too vile for the dogs to stomach. Her feet had walked the path hundreds of times to where the "groves" stood, and Baal was worshipped. Her feet had led the ten tribes of Israel into total apostasy, and to forsake the true God or face death. Those feet led her soldiers to where God's prophets were in hiding, and she had defiled her feet by having them executed. Elijah was also on her "most wanted" death list.
The third item the dogs could not stomach were her bloody hands. Dogs, who scavenged garbage dumps for any scrap they might find, were repelled at the scent of her vile hands. Those hands had signed, and falsified documents with orders to have the righteous put to death. She had lifted those hands in worship to the idols of Baal. God did not give a record of the extent of the wickedness those hands had committed. The dogs, themselves, testified to her wickedness.
All her wickedness was produced in her perverted skull. It demonstrated itself through her bloody hands and corrupted feet. There is no doubt that God had this text recorded to amplify for us the wickedness of Jezebel. Whatever a dog refuses to eat is indeed beyond description. Thus, the dogs refused to eat her skull, her hands, and her feet.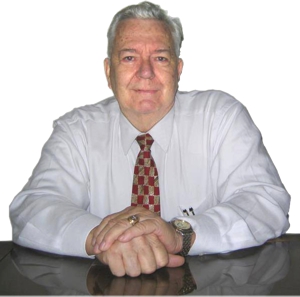 Pastor Ken Blue was born in Boswell, Ark. In 1955 he accepted Christ as his Savior. He and his wife Joyce were married in 1955. They have 5 children. He graduated from Midwestern Baptist Bible College in 1969 and started the Open Door Baptist Church in Lynnwood, Wa. where he pastored for 39 years. Because of health issues (ALS) he was forced to resign as pastor. It is his desire to continue to be used of God to help pastors and believers through this ministry.