By Ken Blue
There is no possibility of understanding the Bible unless one interpreters the word within the context. The structure must first be discovered,  then the scope of the passage can be ascertained. From that, one can correctly determine what the words mean in the context of the passage.
The mistake by many, who study the Bible, is to assume that the same word will have the identical meaning wherever it is found. The key to any passage is the meaning of the word usage within that passage. With that in mind, we will look at four words where it is imperative that these rules be followed.
Baptized

unto

Moses- "Moreover, brethren, I would not that ye should be ignorant, how that all our fathers were under the cloud, and all passed through the sea; 2 And were all baptized

unto Moses in

the cloud and in the sea;" 1 Corinthians 10:1-2. Here we have the baptism of an entire nation. They had no knowledge that it was a baptism, and no one got wet. The key is that the nation was "baptized

unto

Moses."
How is the word "unto" used in this passage? The Oxford English Dictionary says it is "Denoting attachment, union, adherence, or kinship to a person." Thus, when they followed Moses through the Red Sea, under the cloud, they were demonstrating the above definition of the word "unto."  They were not baptized "into" Moses, but "unto" him. They would follow his leadership.
 Baptized

into

 Christ- The first use of the word "baptize" in Romans, is 6:3. " Know  ye not, that so many of us as were baptized

into

Jesus Christ were  baptized into his death? 4 Therefore we are

buried with him

by baptism into death…"There is no water in the passage.  No one is baptized into Christ by water. The context and the word usage make that clear. When we arrive at the book of Romans, we are beginning the doctrinal section of      the church epistles. This is a spiritual operation.  Neither is there is a resurrection of the believer in the text. The believer, in the passage, is in a state of death and burial. Thus, this is his standing in Christ. He is out of site, and      nothing can touch him!
The word "into" shows placement, and position.  Every believer has been baptized "into" His death and burial.  We are not baptized unto Christ, but into Him. There is a world of difference. "For by one Spirit are we all baptized into one body, whether we be Jews or Gentiles, whether we be bond or free; and have been all made to drink into one Spirit." 1 Corinthians 12:13. "For as many of you as have been baptized into Christ have put on Christ." Galatians 3:27.  You were put "into" Christ in His death and burial by the Holy Spirit.
Baptized

by

the Spirit– "For

by

one Spirit are we

all

baptized

into one body

, whether we be Jews or      Gentiles, whether we be bond or free; and have been all made to drink into  one Spirit." 1 Corinthians 12:13. The third word one must understand is "by." When God baptized the Nation of Israel, He was the baptizer, and  no one got wet. When we were baptized "into" Christ death and burial, water was not involved. Also, when we were      baptized "by" the Holy Spirit, there was no water present. The Holy Spirit is

doing

the baptizing.
Some Baptist, like Church of Christ, Mormons, and Catholics see water just about every time baptism is mentioned. That is a great error.  Paul says, it is the Holy Spirit who does the baptizing. All believers are baptized "by" the Spirit into Christ's body. That body comprises all believers in this dispensation. There is no water is this passage.
Paul reinforces this when he says, "One Lord, one faith, one baptism," Ephesians 4:5. We know of at least seven different kinds of baptisms, but Paul is saying there is really only one Lord that matters, one body of faith for the church, and one baptism that puts one into Christ.  That baptism is the only one that puts you into Christ, and it is "by" the Holy Spirit.
Baptized "with" the Spirit-"I indeed baptize you "with" water "unto" repentance: but he that cometh after me is mightier than I, whose shoes I am not worthy to bear: he shall baptize you

with

the Holy Ghost, and "with"  fire:" Matthew 3:11. In this baptism, Christ is the baptizer, the Spirit is the element, and Israel is the recipient. Notice it "with" the Spirit they would be baptized. No water here either. This baptism was      prophesied throughout the Old Testament, and it involves the nation of Israel.
Notice the following promises to Israel. "Turn you at my reproof: behold, I will pour out my spirit unto you, I will make known my words unto you. Proverbs 1:23 For I will pour water upon him that is thirsty, and floods upon the dry ground: I will pour my spirit upon thy seed, and my blessing upon thine offspring: Isaiah 44:3  And I will pour upon the house of David, and upon the inhabitants of Jerusalem, the spirit of grace and of supplications: and they shall look upon me whom they have pierced, and they shall mourn for him, as one mourneth for his only son, and shall be in bitterness for him, as one that is in bitterness for his firstborn. Zechariah 12:10 (For as yet he was fallen upon none of them: only they were baptized in the name of the Lord Jesus.) Acts 8:16. So shall he sprinkle many nations; the kings shall shut their mouths at him: for that which had not been told them shall they see; and that which they had not heard shall they consider. Isaiah 52:15 Then will I sprinkle clean water upon you, and ye shall be clean: from all your filthiness, and from all your idols, will I cleanse you. Ezekiel 36:25.
So, no Christian should be confused by the words "unto, into, by," and "with." The nation of Israel was baptized "unto" Moses. The believer today in baptized "into" Christ "by" the Holy Spirit, and at Pentecost, the Apostles, and believing Jews were baptized "with" the Spirit. That baptism will happen again at the end of the Tribulation when a Jewish remnant repents. God will "pour out"  His Spirit and a new nation will be born. John's baptism my have symbolized that baptism.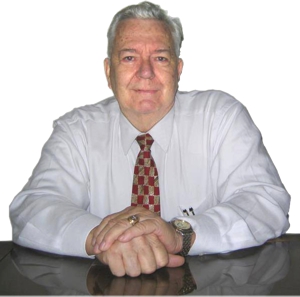 Pastor Ken Blue was born in Boswell, Ark. In 1955 he accepted Christ as his Savior. He and his wife Joyce were married in 1955. They have 5 children. He graduated from Midwestern Baptist Bible College in 1969 and started the Open Door Baptist Church in Lynnwood, Wa. where he pastored for 39 years. Because of health issues (ALS) he was forced to resign as pastor. It is his desire to continue to be used of God to help pastors and believers through this ministry.