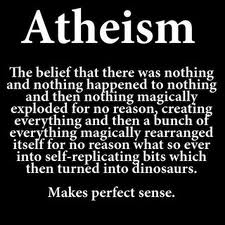 ByKen Blue
"The fool hath said in his heart, There is no God. Corrupt are they, and have done abominable iniquity: there is none that doeth good. 2 God looked down from heaven upon the children of men, to see if there were any that did understand, that did seek God. 3 Every one of them is gone back: they are altogether become filthy; there is none that doeth good, no, not one." Psalm 53:1-3 .
Over the years I have tried to be charitable, and give the atheist the benefit of a doubt. I assumed there surely must be one that was honest, rational, and objective. However, I was wrong. God's description, I've discovered fits them perfectly. I am not surprised, for who knows their heart better than God does? You may find an honest agnostic. He is not quite so arrogant, or filled with pride. He has enough common sense to admit, there might be a God that he knows nothing about. But it is completely different with the atheist. You will not find one honest atheist, in a thousand. Agnostics come it two different categories, the honest and the dishonest. Atheist, however, are all in their own little category of fools.
I have had several email debates with atheist, and I have found that they are not only as God describes them, they are dumber than a sack of rocks. I say that with charity. If you doubt what I say, just give them a little time to defend their belief, and witness the fangs come out. Of course, they attempt to derail you by saying, "We don't believe in God, therefore we have nothing to prove." Put that stupid response in the sack with the other rocks.
The next few articles will contain a recent exchange of emails, where I challenged an atheist to defend his claims. You will see why God calls them "fools." You will discover also that he will not address one challenge I gave him. He could not.
Having read much of the article on the atheist home page, I assumed Jeff (not his real name) and I would have a civil debate. You will see that it didn't take long for the tide to turn.
Message sent via infidels.org/contact.php
•Message:
•——————————
•Jeff, let me say first of all, I appreciate your sincere, and straight forward attempt to be fair in your article. I mean that. I have been a Bible believing Christian for about 55 years. So, I am too old to change, and too dumb to care. I am well aware that most things in the Bible are outside the realm of our reasoning. The only way to make sense of those things, outside human reasoning, is to believe in a God who is outside that little box we think contains all rational, and what is reasonable.
•Now, having said that, atheists must also rely on human reasoning and a lot of faith as well. You said, "It is logically impossible that such a God could exist." I say, that is true, if you confine God to your own small world of logic. I am sure you don't think your logic is infallible. You also said, "Others are atheists through skepticism, because they see no evidence that God exists." Just because you don't see the evidence, does that mean none exists? Please don't play the game, "We don't believe, therefore we have nothing to prove." Oh, yes you do. You may not accept the evidence, because you don't believe it, but that is not proof that it does not exist.
My next post will list the ridiculous reasons atheist hate the Bible. Some of the major reasons the atheists hate the Bible is because it teaches that they are condemned, and accountable to a higher power that Power will judge them. Fear will not let them believe. Pride will not let them believe, and their ignorance keeps them from being able to receive or believe.
Also, if you have not seen the documentary by Ben Stine questioning the world's leading atheist, you must do so right away. Go to http://www.youtube.com/watch?v=V5EPymcWp-g.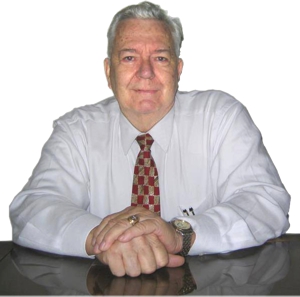 Pastor Ken Blue was born in Boswell, Ark. In 1955 he accepted Christ as his Savior. He and his wife Joyce were married in 1955. They have 5 children. He graduated from Midwestern Baptist Bible College in 1969 and started the Open Door Baptist Church in Lynnwood, Wa. where he pastored for 39 years. Because of health issues (ALS) he was forced to resign as pastor. It is his desire to continue to be used of God to help pastors and believers through this ministry.