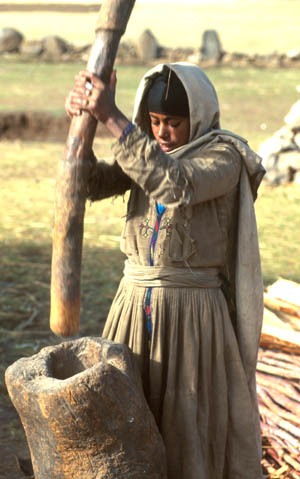 "Though thou shouldest bray a fool in a mortar among wheat with a pestle, yet will not his foolishness depart from him." Proverbs 27:22 .
The book of Proverbs has much to say about the impossibility of teaching or instructing the fool. The above text show just how difficult it is.
There are three words that are unfamiliar to those of us in the West. They are, bray, mortar, and pestle. These are illustrated in the picture.
The word, bray, means to pounds or pulverize grain until it was turned to powder. The powder was then mixed with water and made into bread.
The next word is mortar. It means a hollow place, as you see above. It was usually in a stone that was hollowed out for that purpose. The grain was placed in the mortar or hollow place, and then pounded to powder.
Finally, you have the word pestle. The pestle is the interment in the hands of the woman. With it she pounds the grain within the mortar into a power.
The only ingredient remaining was the fool. The writer is saying, if you put the fool in the mortar with the grain, and pound him to power with the pestle, he still would not cease being a fool. He is too stupid to depart from his foolishness. In fact, he may be so foolish; he doesn't know he is a fool. So, some people are impossible to teach, rebuke, or instruct, and it is a waste of time and energy to correct them.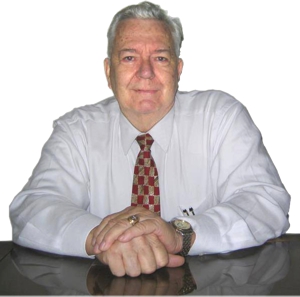 Pastor Ken Blue was born in Boswell, Ark. In 1955 he accepted Christ as his Savior. He and his wife Joyce were married in 1955. They have 5 children. He graduated from Midwestern Baptist Bible College in 1969 and started the Open Door Baptist Church in Lynnwood, Wa. where he pastored for 39 years. Because of health issues (ALS) he was forced to resign as pastor. It is his desire to continue to be used of God to help pastors and believers through this ministry.