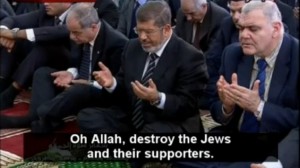 Egypt's President Mohammed Morsi participated in prayers over the weekend in which the preacher urged Allah to "destroy the Jews and their supporters."
In footage of the service from Matrouh governorate's el-Tenaim Mosque screened on Egyptian state television on Friday, Morsi was shown in fervent prayer as cleric Futouh Abd Al-Nabi Mansour, the local head of religious endowment, declared, "Oh Allah, absolve us of our sins, strengthen us, and grant us victory over the infidels. Oh Allah, destroy the Jews and their supporters. Oh Allah, disperse them, rend them asunder. Oh Allah, demonstrate Your might and greatness upon them. Show us Your omnipotence, oh Lord."
According to the Anti-Defamation League (ADL), Morsi could be seen mouthing "amen" to these sentiments.
The service was also attended by the region's governor and local officials. The footage was recorded and transcribed by MEMRI (the Middle East Media Research Institute). A similar translation was published by the ADL.
The ADL's National Director Abraham Foxman complained Sunday that "The drumbeat of anti-Semitism in the 'new' Egypt is growing louder and reverberating further under President Morsi and we are increasingly concerned about the continuing expressions of hatred for Jews and Israel in Egyptian society and President Morsi's silence in the face of most of these public expressions of hate." Added Foxman, "The United States and other governments with influence on the Egyptian leadership should publicly urge President Morsi to speak out against this disturbing manifestation of hatred toward Jews."
Earlier this week, the ADL wrote to Morsi urging him to reject statements made by the supreme author­ity of the Mus­lim Broth­er­hood, Mohammed Badie, who called for vio­lence against Jews and Israel.
While Morsi was visiting Matrouh, demonstrators in Cairo's Tahrir Square Friday held a peaceful protest demanding the president, a former leader of the Muslim Brotherhood, ensure the country's constitution, currently being drafted, represent all factions of society.
Morsi has indicated he intends to maintain Egypt's 1979 peace treaty with Israel, and his new ambassador to Israel presented his credentials to President Shimon Peres last week. The warm tone of the note Morsi sent to Peres in presenting his ambassador, though it accorded with normal diplomatic protocol, has caused a storm of controversy in Egypt. A Muslim Brotherhood leader initially claimed the letter was a "Zionist fabrication," but Morsi's office confirmed its authenticity.
http://www.timesofisrael.com/in-morsis-presence-egyptian-preacher-urges-allah-destroy-the-jews/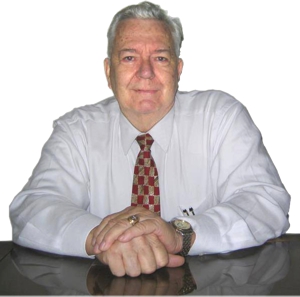 Pastor Ken Blue was born in Boswell, Ark. In 1955 he accepted Christ as his Savior. He and his wife Joyce were married in 1955. They have 5 children. He graduated from Midwestern Baptist Bible College in 1969 and started the Open Door Baptist Church in Lynnwood, Wa. where he pastored for 39 years. Because of health issues (ALS) he was forced to resign as pastor. It is his desire to continue to be used of God to help pastors and believers through this ministry.