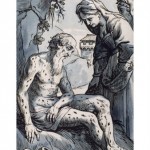 By Ken Blue
Job 1:1  "There was a man in the land of Uz, whose name was Job; and that man was perfect and upright, and one that feared God, and eschewed evil."
"Give an account of roaming, the earth, to and fro,
And why are you watching righteous Job as you go?"
"I have seen thousands like him, secure in their place,
Take away Your bribes, and he'll curse You to Your face."
So the Lord took down the hedge, and Job was fair game.
Once he'd lost it all, would he live up to his name?
Satan took all his farms, his servants, and his herds,
Still, Job remained faithful, and he was not deterred.
"Let me get more personal," was Satan's request.
"Let me take away his health, and what he loves best."
So Job lost his health and his children in that day.
Job replied, "The Lord gives, it's His to take away."
Job's friends came to comfort him in his shocking plight.
They gazed on his misery, seven days and nights.
Jobs wife was filled with grief; she could no longer cry.
And in her anger said, "why not curse God and die?"
Job was greatly perplexed; he had done nothing wrong.
And now his health, and all else, was dead or gone.
Job didn't know God's purpose or the design on high,
Nor answers to millions, who ask the reason, "why?"
All his friends believed he was hiding sins within.
"Just fess up Job, and all will be restored again."
But, Job remained steadfast; he had done nothing wrong.
This was his argument, and would be his theme song.
But God appeared to Job in a mighty whirlwind,
And took the argument from his three naive friends.
Job needed to see God, in His wisdom and power,
And realize there's no escaping life's testing hour.
Job was at wits end, but to answer God he must.
"I see, and abhor myself in ashes and dust.
You are all righteousness; I am completely vile."  
Unknown to Job, this was God's purpose all the while.
Therefore, Satan was wrong, and so were Job's three friends.
And Job was the more righteous in the latter end.
God proved that men don't serve for what is given them.
But, because He is LORD, they love and worship Him.
Job was patient, and he proved Satan is a liar.
God is a loving God, as we go through the fire.
And all that Job lost was restored a hundred fold.
And a truth was revealed as the mystery was told.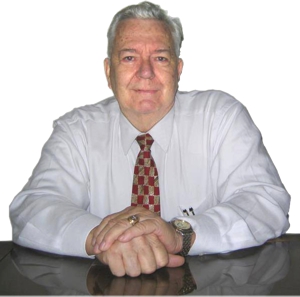 Pastor Ken Blue was born in Boswell, Ark. In 1955 he accepted Christ as his Savior. He and his wife Joyce were married in 1955. They have 5 children. He graduated from Midwestern Baptist Bible College in 1969 and started the Open Door Baptist Church in Lynnwood, Wa. where he pastored for 39 years. Because of health issues (ALS) he was forced to resign as pastor. It is his desire to continue to be used of God to help pastors and believers through this ministry.