"And to the angel of the church in Pergamos write; These things saith he which hath the sharp sword with two edges;  I know thy works, and where thou dwellest, even where Satan's seat is: and thou holdest fast my name, and hast not denied my faith, even in those days wherein Antipas was my faithful martyr, who was slain among you, where Satan dwelleth. But I have a few things against thee, because thou hast there them that hold the doctrine of Balaam, who taught Balac to cast a stumblingblock before the children of Israel, to eat things sacrificed unto idols, and to commit fornication.  So hast thou also them that hold the doctrine of the Nicolaitanes, which thing I hate.  Repent; or else I will come unto thee quickly, and will fight against them with the sword of my mouth.  He that hath an ear, let him hear what the Spirit saith unto the churches; To him that overcometh will I give to eat of the hidden manna, and will give him a white stone, and in the stone a new name written, which no man knoweth saving he that receiveth it."  (Revelation 2:12-17).
Easton's Bible Dictionary describes "The Church in Pergamos" as: "It was noted for its wickedness, insomuch that our Lord says, "Satan's seat," was there. The church of Pergamoswas rebuked for swerving from the truth and embracing the doctrines of Balaam and the Nicolaitanes. Antipas,Christ's "faithful martyr," here sealed his testimony with his blood.  This city stood on the banks of the river Caicus, about 20 miles from the sea. It is now called Bergama, and has a population of some twenty thousand, of whom about two thousand profess to be Christians. Parchment (q.v.) was first made here, and was called by the Greeks pergamene, from the name of the city."
The Lord Jesus is introduced to the churches as the One "…which hath the sharp sword with two edges." This sword, which comes out of His mouth, is the spoken Word of God. It is He who spoke and it came to be. He said, "let us make man…" The Roman Centurion understood the power of His words when he said, "Say in a word and my servant shall be healed." With this sword He judges the nations, beginning with Israel (see verse 16; 19:5, 21).
            "Satan's seat" (v.13). It is a mistake to assume that Satan personally resided or had his headquarters at Pergamos. We saw in 2:9 that the synagogue of Satan was in Smyrna. The idea here is that Satan was working in their midst through the Jews and Synagogues where Jesus Christ was not acknowledged as Lord and King. We know that Satan did not physically dwell among them. He is not cast out of heaven until chapter 12.
We have no information about "Antipas," the "faithful martyr." He may have existed in John's day or he may have been martyred just prior to the vision.
The Lord found some fault in this church. Some within the church embraced the doctrine of Balaam. That doctrine involved eating meat offered to idols and fornication. For a description of Israel's sin see Numbers 25. Orthodox Jews, in the Day of the Lord, will be pork abstaining, Sabbath keeping and Law observing Jews. Many Jews will be immoral and apostate.
We have already been informed that amid the believing remnant there will be "false apostles" and "false Jews." It doesn't take any stretch of the imagination to believe that some within the assemblies will tolerate food forbidden to a Jew and will practice sodomy and immorality. Why should that shock any of us? We live in a day where any word against sodomy or homosexuality will be labeled as a hate crime and many pastors and churches are threatened with lawsuits.  One can find churches in any city in America where sodomy is accepted, and in many cases the pastor and staff members are sodomites. "And their dead bodies shall lie in the street of the great city, which spiritually is called Sodom and Egypt, where also our Lord was crucified." (Revelation 11:8).
Just who the Nicolaitanes were, no one seems to know for sure. Easton's Dictionary says, "The church at Ephesus (Revelation 2:6) is commended for hating the "deeds" of the Nicolaitanes, and the church of Pergamos is blamed for having them who hold their "doctrines" (Revelation 2:15). They were seemingly a class of professing Christians, who sought to introduce into the church a false freedom or licentiousness, thus abusing Paul's doctrine of grace (comp. 2 Peter 2:15-16, 19), and were probably identical with those who held the doctrine of Baalam (q.v.), Revelation 2:14."
Dake says of the Nicolaitanes: "Followers of Nicolaus, a heretic. They are thought to have been a sect of Gnostics who practiced and taught impure and immoral doctrines, such as the community of wives, that committing adultery and fornication was not sinful, and that eating meats offered to idols was lawful. This was similar to the doctrines of Balaam and Jezebel of Thyatira (Revelation 2:6, 14-15, 20)."  This is one of those many issues in Scripture where the full understanding will be made clear to those to whom it is written.
Repentance of these foul deeds was required (v.16), or He would "come unto thee quickly" and "fight against them with the sword" of His mouth. Their candlestick would be extinguished and removed.
In verse 17, notice that the Spirit sends letters to all the churches, and only the "overcomers" will eat of the hidden manna and receive a white stone with a new name written in it. We are not told what this "hidden manna" is. If we speculate, we find ourselves in good company. There was manna within the Ark of the Covenant. It was placed and kept there to remind Israel of God's provision and faithfulness. Perhaps the manna in our text is not literal, but symbolic of God's faithfulness to the faithful remnant who overcomes. They simply will find sustenance and strength in their obedience of God. Jesus said in John 4:32, "…I have meat to eat that ye know not of." In verse 34 He said, "…My meat is to do the will of him that sent me, and to finish his work." The analogy may be to a spiritual experience or fulfillment at the return of Christ. It is also possible that this manna is reserved for those who will be forced to flee the city of Jerusalem and hide in the wilderness where they will be fed with hidden or reserved manna (see chapter 12).
The stones, which will be received, may be likened to those in Aaron's breastplate. Israel will have her twelve tribes in the future and they will consist of the remnant. This may be the reference to the name within the stones. Also, a black and a white stone was placed in a jar or container. It was used as a form of casting lots. The white stone meant the person would go free, a black stone meant death. The idea may allude to those who will enter the kingdom and those who will be cast out. Nobody knows what these names will be; they will be fully known at the end of the Lord's Day.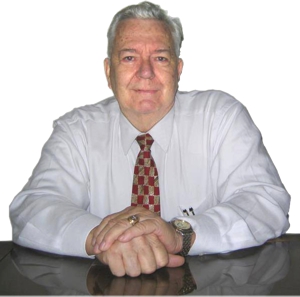 Pastor Ken Blue was born in Boswell, Ark. In 1955 he accepted Christ as his Savior. He and his wife Joyce were married in 1955. They have 5 children. He graduated from Midwestern Baptist Bible College in 1969 and started the Open Door Baptist Church in Lynnwood, Wa. where he pastored for 39 years. Because of health issues (ALS) he was forced to resign as pastor. It is his desire to continue to be used of God to help pastors and believers through this ministry.