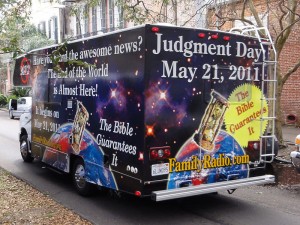 "For such are false apostles, deceitful workers, transforming themselves into the apostles of Christ. 14 And no marvel; for Satan himself is transformed into an angel of light. 15 Therefore it is no great thing if his ministers also be transformed as the ministers of righteousness; whose end shall be according to their works." 2 Cor. 11:14-15.
The above passage describes Harold Camping better than any other Scripture. He is a deceitful worker, and a minister of Satan. His interpretation of the Bible is like a backlash on a spinning reel. His allegorical method of interpretation leaves you with no way to correct him, or get a handle on his teaching.
He has already prophesied, and given dates for the rapture, and both of them failed. Now, he has set the date of October 21 as the end of the world. He was wrong on the others, and will be wrong on this one. It may be the end of the world for Camping's ministry. As gullible as people are, I can't imagine anyone being so stupid they would continue to follow him. Nor can I believe he will show his face again.
No one on this earth knows when the rapture will take place, when the Tribulation will begin, who the Antichrist is, who the false prophet is, or when the end of the world will come. None of these can be known from Scripture. Therefore, all who pretend to know these things, are lying, or deceived. Let them bring forth their PROOF. (Notice that on the side of the bus these words, "The Bible Guarantees it." It does not! This is the damage Camping is doing. He is telling the world that the Bible tells when these events will happen. Then when they do not, people say, "See, the Bible is wrong." Again, the Bible is not wrong. It NEVER gives the time of those events.)
If you are a Christian, I suggest you ignore Harold Camping and all teachers and preachers who mishandle the Word of God. The Bible should not be allegorized. If the Bible uses types, it will be clear from the context. The safe and right method is to read it naturally as you would read any other book. It will make sense to you when you do.
Don't worry about October 21. That will not be the rapture or the end of the world. However, those things are coming in their time sequence as set by God. If you are not saved, you can accept Jesus Christ as your personal Savior right now. Just tell Him that you are accepting Him as your Savior. Find a King James Bible and start reading the book of Romans. You will be glad you did.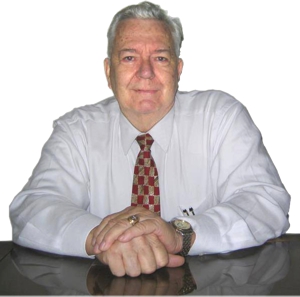 Pastor Ken Blue was born in Boswell, Ark. In 1955 he accepted Christ as his Savior. He and his wife Joyce were married in 1955. They have 5 children. He graduated from Midwestern Baptist Bible College in 1969 and started the Open Door Baptist Church in Lynnwood, Wa. where he pastored for 39 years. Because of health issues (ALS) he was forced to resign as pastor. It is his desire to continue to be used of God to help pastors and believers through this ministry.