ByKenBlue
Recently I receive the following email from a young man, who is a friend of mine, and he wanted to know my thoughts on the question, does God hate the sin and love the sinner, or hate both. Here are his questions and some comments.
"So what is your take on god loving a sinner but hating their sin. These sinners, are they lost sinners or saved sinners. Or are they both. I could never find in the bible where god loves everybody in the present tense. So according to the scriptures that would not even be bible because i tis no where in there. (To quote those who espouse this doctrine, let me say, there may not be a verse, but it isn't anti-Scriptural. So, the whole Bible teaches God's love for the lost. Note byKenBlue.)  In the bible , ist the love of god manifested to unsaved world at calvary and only there(rom. 5:6-10; 2 cor. 5:19-21; col. 2:12-15; 1 pet.1:19-21, 2:24 3:18; 1 jon. 3:5,16 4:9-11). In john 3:36 doesnt the wrath of god abide on everychrist rejecting sinner on the face of this earth who don't fall under the conditions of romans 4:15, 5:13. I wouldnt say i hate (lost)sinners but, i am not god and i believe i am at liberty to say that the things that god would certainly love are things that are holy and pure because he is holy. I have come to learn that god is not in love or head over heals for an unsaved man. So saying all that to say this, would you say that many many pr eachers today across ths great nation mistake god's mercy for his love?"
RESPONSE:  Perhaps the best place to start would be with the question, do you hate your father, mother, brothers, sisters and wife? "If any man come to me, and hate not his father, and mother, and wife, and children, and brethren, and sisters, yea, and his own life also, he cannot be my disciple." Luke 14:26. To be honest and consistent, we must hate them. Do you?
Secondly, if one is going to use the "past tense" to establish this doctrine, shouldn't he be consistent and follow that rule throughout Scripture?  I gave several examples in the blog you were asking about. I suggest you read it again and answer the questions. Did Jacobstop loving Rachel? "And Jacob loved Rachel; (past tense) (and said, I will serve thee seven years for Rachel thy younger daughter." Genesis 29:18. Notice also that Jacob hated Leah. "And when the LORD saw that Leah was hated, he opened her womb: but Rachel was barren." Genesis 29:31.
Also, If you think God loves only those who are holy and pure, you are mistaken. The Bible from Genesis to Revelation demonstrates that. I am aware that we are not God. But that excuse could be an alibi. If I am to be God like, shouldn't I be praying that I will have more hatred for sinners?
To say that the only place God manifested His love for the world was at the cross is not consistent with Scripture. I don't know about other preachers, but I am not confused on this subject. God's compassion and grace are manifestations of His love. So, the answer to your question, "isn't the love of god manifested to unsaved world at Calvary and only…?" Is, no.
God's love is manifested when he covered Adam and Eve, walked with Enoch, saved Noah and his family, called Abraham, saved Lot out of Sodom, created the Jewish nation as a missionary nation, gave them the Scriptures, wept over Jerusalem, died on the cross, hears our prayers, allowed us to have His Word, and is coming again! Once again, grace and compassion are only extensions of God's love.
I believe the following describe loud and clear what this novel issue is creating. "Of these things put them in remembrance, charging them before the Lord that they strive not about words to no profit, but to the subverting of the hearers. 15 Study to shew thyself approved unto God, a workman that needeth not to be ashamed, rightly dividing the word of truth. 16 But shun profane and vain babblings: for they will increase unto more ungodliness."
God Bless
NEXT EMAIL: "Now of corse I don't hate my father, mother, brothers, sisters and wife but what if that word is being used as a comparative thing like in Judges 14:16 where a fella doesn't follow someone's desires. ho about in that sense There are words that have multiple meanings right? Matt.10:37, Gen.29:31.
A. I am not sure how you can take the liberty to say Judges 14 is comparative. The word there in the KJV is "hate." If we can take that liberty, why not in other uses? Who is the final authority, the English, the Hebrew, you or me?
"There is no establishing any doctrine here. Now to say that Jacob did love Rachel(past tense) would be true because he did but now they have been dead for many years so how can they still be loving each other?"
A. If you follow that logic, you must say it of those for whom Christ died, for they were dead when the Gospels were written.????
"Sorry I didn't mean to say where did God manifest his love. I meant to ask where did God present;show his love to lost mankind? Does He have love for a world that is "evil"(Gal.1:4;Psa.7:11) Is God's love for a sinner ever seperated from His Son's Sacrifice? Yes Or No."
A. Of course. The Lord loved the rich young ruler. This was prior to His sacrifice. He loved the disciples whom He had chosen, prior to His sacrifice. He has always loved His creation.
"Didn't David say in Ps.5:5 that God "hates" all workers of iniquity."
A. The Lord corrected David and all who held to this doctrine. "Ye have heard that it hath been said, Thou shalt love thy neighbour, and hate thine enemy. But I say unto you, Love your enemies, bless them that curse you, do good to them that hate you, and pray for them which despitefully use you, and persecute you; 45 That ye may be the children of your Father which is in heaven: for he maketh his sun to rise on the evil and on the good, and sendeth rain on the just and on the unjust. 46 For if ye love them which love you, what reward have ye? do not even the publicans the same? 47 And if ye salute your brethren only, what do ye more than others? do not even the publicans so? 48 Be ye therefore perfect, even as your Father which is in heaven is perfect."
"I thouhgt I said THE THINGS THAT GOD WOULD CERTAINLY LOVE: ARE  THEY THINGS THAT ARE HOLY AND PURE? Just things not people. Now dealing with people, God does love the new man because you have his love according to 1 Jn. 1:7-21. How can God say to an unsaved man whom He supposadly loves , "depart from me, ye cursed, into everlasting fire, prepared for the devil and his angels:? Where is the love in that? For an eternity."
A. I answered this on the phone. How can a Judge send his son to the electric chair, if he loves him? I think you know the answer.
"I do understand that we are to love because God first loved us. Does God love Israel today? Not according to )Hosea 9:15,17) God said that he hated his own chosen people. Isn't Jer.31:3 dealing with the restoration of Israel at the second advent? Does God love his Enemies?(James 4:4) I am aware that King David hated his enmies with a perfect hatred(Psa. 138:22)"
A. Do you think it is possible to hate someone you love, say, like a brother, sister, father or mother? God will restore Israel again. Also, the word could be used as a "comparative" you suggested in the beginning of the email.
" Now just because of God's very nature is love; can't he have compassion and mercy on a lost man or a sinner for that matter without loving him? Yes or No."
A. The answer is yes. But that is not the case. His compassion and mercy is from His love.
"I don't want to strive about word. The Bible ceartinly is right about that topic. No profit indeed!!"   Thanks, dear brother
NEXT EMAIL: " It's just that in Judges 14:16Samson's wife felt that he hated her because he wouldnt tell her the riddle. "But he didnt hate her". Could it be that he just didnt have the desire to tell her? Could that be the way this word "hate" is being used in this verse of scripture? never said or asked if the entire chapter was comparative."
A. Could be she didn't feel that way at all, but was playing him like a fish?
"I can't find where the Lord loved the rich young ruler"
A. "Then Jesus beholding him loved him, and said unto him, One thing thou lackest: go thy way, sell whatsoever thou hast, and give to the poor, and thou shalt have treasure in heaven: and come, take up the cross, and follow me." Mark 10:21.
"Now before the feast of the passover, when Jesus knew that his hour was come that he should depart out of this world unto the Father, having loved his own which were in the world, he loved them unto the end." John 13:1
"I in them, and thou in me, that they may be made perfect in one; and that the world may know that thou hast sent me, and hast loved them, as thou hast loved me." John 17:23.
Jesushad not died for any of these sinners, but He and the Father loved them before He died for them. Well, well, well, what have we here?  Some one is going to have to do some Scripture twisting!
"How can a Judge send his son to the electric chair. can you please explain that to me one more time, thanks."
A. I explained that a judge may be required to give his son the death sentence to uphold the law and justice. That would not change his love for him. Parents were required to stone and kill their own children or family in the Old Testament. Did they love them? Yes!
"I dont want to be messed up. So its good to ask questions?"
Right! I know you don't, that's why I am taking the time to try to help you through this unscriptural teaching.
God bless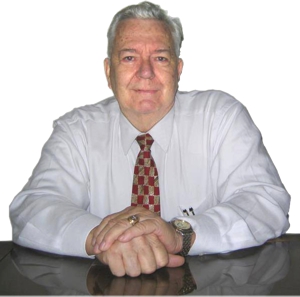 Pastor Ken Blue was born in Boswell, Ark. In 1955 he accepted Christ as his Savior. He and his wife Joyce were married in 1955. They have 5 children. He graduated from Midwestern Baptist Bible College in 1969 and started the Open Door Baptist Church in Lynnwood, Wa. where he pastored for 39 years. Because of health issues (ALS) he was forced to resign as pastor. It is his desire to continue to be used of God to help pastors and believers through this ministry.