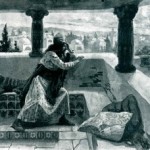 By Ken Blue
From my roof I could clearly see,
What was not intended for me.
So I took the fruit that wasn't mine,
My eyes opened and I was blind.
The news that came was bitter gall;
Nine months would announce it to all.
A plan was made to hide my plight,
Joab would send home the Hittite.
Uriah came home, per my plan.
He was a good and simple man.
I welcomed him, go home, I said.
Certain he'd sleep in his own bed.
He didn't go but slept at my door.
What was wrong with the leaves I wore?
Wine's the key he's only a man.
But nothing went just like the plan.
A note was sent by the Hittite.
Move Uriah up front in the fight.
Joab knew what the message said.
His reply; the Hittite is dead.
I finally slept the whole night through.
There's nothing left I need to do.
Early morning came my next of kin.
Was the Prophet; I let him in.
I offered a drink and a chair.
I'll stand, I've a story to share
About a poor man and a sheep,
Each night at his bosom did sleep.
A rich man took it to feed his guest.
Your judgment's right, you know what's best.
The king stood, with fire in his eye.
He who did this will surly die.
Nathan paused, then lifted his hand,
And said, as God lives, you're the man.
God gave Thee every tree in sight,
You stole the one from the Hittite.
Stolen waters are sweet; they say,
But you will always curse this day.
Your kingdom will crumble away.
And thousands for your sin will pay.
CHECK OUT AUDIO SERMONS AND SONGS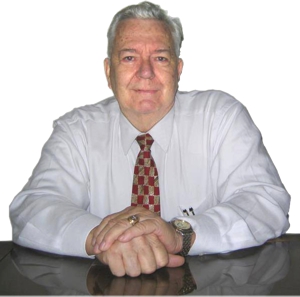 Pastor Ken Blue was born in Boswell, Ark. In 1955 he accepted Christ as his Savior. He and his wife Joyce were married in 1955. They have 5 children. He graduated from Midwestern Baptist Bible College in 1969 and started the Open Door Baptist Church in Lynnwood, Wa. where he pastored for 39 years. Because of health issues (ALS) he was forced to resign as pastor. It is his desire to continue to be used of God to help pastors and believers through this ministry.