HE LOVED ME                                                HE LOVES ME NOT
"If any man come to me, and hate not his father, and mother, and wife, and children, and brethren, and sisters, yea, and his own life also, he cannot be my disciple." Luke 14:26.
A Pastor asked, "if God so loved the world…" does it mean He no longer loves it? The word that troubled him was "loved." "Since it is in the past tense, has God stopped loving the lost and does He now hate them." I said, "If God hates sinners, must we also hate them to be Godlike? Also, should we be sending money to missionaries so they can preach the gospel to those they and God hate?" This striving about words is just one tacit of Satan to confuse and divide the brethren.
Now if past tense means it's over, and no longer active, shall we apply it to the following? Does "loved" mean God no longer loves us and the lost of this world? Perhaps that explains the arrogant, condescending attitude of some preachers and evangelist. If God hates the lost and wants them to go to hell, what's wrong if I have the same attitude?
"Nay, in all these things we are more than conquerors through him that loved us." Romans 8:37.
"I am crucified with Christ: nevertheless I live; yet not I, but Christ liveth in me: and the life which I now live in the flesh I live by the faith of the Son of God, who loved me, and gave himself for me." Galatians 2:20
"But God, who is rich in mercy, for his great love wherewith he loved us," Ephesians 2:4
"And walk in love, as Christ also hath loved us, and hath given himself for us an offering and a sacrifice to God for a sweetsmelling savour." Ephesians 5:2
"Husbands, love your wives, even as Christ also loved the church, and gave himself for it;" Ephesians 5:25. Since he loved the church, does He love it now?
"Now our Lord Jesus Christ himself, and God, even our Father, which hath loved us, and hath given us everlasting consolation and good hope through grace," 2 Thessalonians 2:16
"For Demas hath forsaken me, having loved this present world, and is departed unto Thessalonica; Crescens to Galatia, Titus unto Dalmatia." 2 Timothy 4:10. Since Demas left because he "loved" this world, did he cease to love it after he forsook Paul?
"Thou hast loved righteousness, and hated iniquity; therefore God, even thy God, hath anointed thee with the oil of gladness above thy fellows." Hebrews 1:9. God "loved" righteousness. Does He love it now?  
"Herein is love, not that we loved God, but that he loved us, and sent his Son to be the propitiation for our sins." 1 John 4:10. This verse suggests that God loved the sinner before He died for him, and that love was the reason He sent Jesus to die.
"Then Jesus beholding him loved him, and said unto him, One thing thou lackest: go thy way, sell whatsoever thou hast, and give to the poor, and thou shalt have treasure in heaven: and come, take up the cross, and follow me." Mark 10:21. Here is a self-righteous lost young man, yet Jesus loved him.
Beloved, if God so loved us, we ought also to love one another. 1 John 4:11. If past tense means God stopped loving, at what point shall we stop loving one another"
"We love him, because he first loved us." 1 John 4:19
"The LORD hath appeared of old unto me, saying, Yea, I have loved thee with an everlasting love: therefore with lovingkindness have I drawn thee." Jeremiah 31:3. Does God love Israel today?
You may argue that the above is a reference to believers, and God loves them now. Then we ask, if God hates sinner, shouldn't we also hate them in order to be like God? Does past tense mean it's over?
Do you hate all sinners, or just the ones who don't sin like you. God hates divorce. Does he hate the divorced? Why not? "For the LORD, the God of Israel, saith that he hateth putting away: for one covereth violence with his garment, saith the LORD of hosts: therefore take heed to your spirit, that ye deal not treacherously." Malachi 2:16. Should we have fellowship with divorces, if God hates them? Now, I don't hate anyone. I'm simply putting out the test to prove that the brethren don't hate all sinners;they are selective. Shame, Shame on you!
CHECK OUT AUDIO SERMONS AND SONGS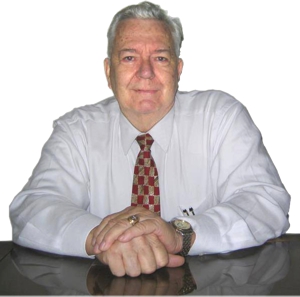 Pastor Ken Blue was born in Boswell, Ark. In 1955 he accepted Christ as his Savior. He and his wife Joyce were married in 1955. They have 5 children. He graduated from Midwestern Baptist Bible College in 1969 and started the Open Door Baptist Church in Lynnwood, Wa. where he pastored for 39 years. Because of health issues (ALS) he was forced to resign as pastor. It is his desire to continue to be used of God to help pastors and believers through this ministry.