By Ken Blue

"Jesus wept." John 11:35.
And when he was come near, he beheld the city, and wept over it, Luke 19:41
"Who in the days of his flesh, when he had offered up prayers and supplications with strong crying and tears unto him that was able to save him from death, and was heard in that he feared;" Hebrews 5:7.
The key to each account of our Lord's weeping is found in the context. Each one revealed the human side of Jesus Christ.  
 In John 11, the Lord is in Bethany at the tomb of Lazarus. Our lord is not weeping for Lazarus. He is about to raise him from the dead. However, when he looks about and sees the sorrow and brokenness of those He loves, He cannot constrain Himself. His is not the loud wailing usually associated with funerals in that part of the world, but a silent weeping of a broken heart. Let us take comfort that He weeps with those who weep.
The second account of our Lord's weeping is recorded in Luke 19:11. There we see him weeping over the city of Jerusalem. He is weeping for them because of the impending doom awaiting them, their city, and their temple. Their ignorance was willful, and thus they closed their eyes to their Scriptures and their visitation of salvation. This led to a blindness, which hides the future and present to them as a nation to this day. This passage reminds us of the lamentations of Jeremiah over Jerusalem. Our Lord's vision of the destruction that was soon to be inflicted by Titus moved Him to great weeping and wailing.
The third account of His weeping is found in Hebrews 5:7. We are confident these three are not the only times our Lord wept. He was a man of sorrows and acquainted with grief. However, the Holy Spirit had His purpose for recording these.
The weeping in this account took place just prior to our Lord's death on the cross. This entire passage must view Jesus from His human nature. He was made man that He might taste death for every man. He is not praying that He would not die. He came for that purpose and knew it. Jesus was praying that He would be resurrected out from among the dead. It is very difficult to reconcile His humanity with His deity, but both are true, and He must be seen in the capacity of a man. Again, we suggest that the entire chapter in Hebrews be read for fuller understanding of why our Lord wept and prayed in the garden.
Jesus did not do any miracles that could not be done by the Twelve, whom He had chosen. The Twelve were only men, yet they were empowered to perform mighty miracles. Jesus laid aside His deity and served the Father as a man, and always obeyed Him. This should help explain His prayers and weeping prior to His death.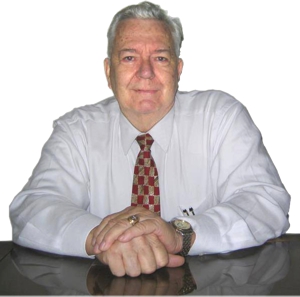 Pastor Ken Blue was born in Boswell, Ark. In 1955 he accepted Christ as his Savior. He and his wife Joyce were married in 1955. They have 5 children. He graduated from Midwestern Baptist Bible College in 1969 and started the Open Door Baptist Church in Lynnwood, Wa. where he pastored for 39 years. Because of health issues (ALS) he was forced to resign as pastor. It is his desire to continue to be used of God to help pastors and believers through this ministry.