THE BENEFIT OF SUFFERING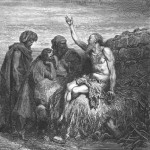 By Ken Blue
While a student in Omaha, I pastored a small church in Iowa. Mrs. Blue and I visited a young man who was a teacher in the college town. As I attempted to discuss spiritual things, he said to me, "the God of Job would be my devil." Needless to say, I was taken back and found that further discussion was useless. His problem, like many, was his inability and unwillingness to accept that God wants to use our suffering to fulfill a purpose in our life and in the lives of others.
Recently I received the following question. I will attempt to answer it as I understand the subject. However, the final answer to all our questions will be answered at the Judgment Seat.
"Hi Pastor. I have a question that keeps bugging me, and I thought I would see what your thoughts are. It's about God's actions that seem somewhat contradictory to his character (or at least by my perception)- in regard to Job. It seems contradictory to me that God could truly love Job and yet allow such tragedy to be placed upon him for what seems like no reason but to "prove" Satan wrong…. maybe I have it all wrong. It just seems like if Job was as good of a servant to God as the Bible says, that it would be totally wrong to inflict such pain on him. It wasn't like God was disciplining him, or rebuking him, or correcting him- it was "just because" and I just don't understand how that can possibly show God's love in any way."
The book of Job is the oldest book in existence. It is a literary masterpiece, and many colleges use it in their study of literature. It was written between 1800 and 1700 B.C. before the Exodus, or the nation of Israel existed. It was written to answer man's question; why do the righteous suffer?
Suffering is in the world because of sin. That does not mean you are suffering because of your personal sins. We suffer because of the wickedness of others also. We may suffer for other reasons. If God protected every person from suffering, there would be no such thing as a free will, and without a free will, the word love, and choice have no meaning.
Suffering should be a warning to us not to sin. Suffering is intended to purge us from our sins, and we learn obedience by the things we suffer. David said, "Before I was afflicted I went astray: but now have I kept thy word." Psalms 119:67.
The following verse should be meditated on. " Though he (Jesus) were a Son, yet learned he obedience by the things which he suffered;  And being made perfect, he became the author of eternal salvation unto all them that obey him; Hebrews 5:8-9. No one was as perfect as the Lord Jesus, yet God saw value in allowing Him to suffer. There were things Jesus did not know until He suffered. It is in the midst of suffering we prove and demonstrate our faith in God's love, wisdom, and goodness. Every reader should pause here and read Hebrews 11:24-40.
Suffering is to bring us to the end of our self-sufficiency and show what helpless sinners we are. This is the end to which God was bringing Job. Although Job is said to be perfect and upright, he still had a sinful nature, and it manifested itself in his self-righteousness. His ordeal and personal confrontation with God brought him to the end of self-sufficiency and self-righteousness. Listen to his confession, after God had finished His test. "I have heard of thee by the hearing of the ear: but now mine eye seeth thee. Wherefore I abhor myself, and repent in dust and ashes." Job 42:5-6. This may not sound appealing, but this is the end God has for every believer.  
God does not choose every person to suffer as Job. He knew Job's character, and that he would justify God in the end. Many would not, thus they never learn the lessons Job learned or experience the knowledge of God he did. God restored to Job double what he had.
Was God fair in his dealings with Job?
We often hear the word fair associated with suffering. Was God fair in his dealings with Job? Our problem is understanding what the word means. When used in this context it means "just." Was God just in His treatment of Job, and the Lord Jesus Christ? The answer is yes and no. If God had been fair with Job, you, and me, we would be in hell. That would be just and fair; but His mercy prevailed. Then, was God fair by allowing Jesus to die and suffer in your place? The answer is yes.
If we are to be what God intended, we too must suffer. "Ye have not yet resisted unto blood, striving against sin.  And ye have forgotten the exhortation which speaketh unto you as unto children, My son, despise not thou the chastening of the Lord, nor faint when thou art rebuked of him:  For whom the Lord loveth he chasteneth, and scourgeth every son whom he receiveth.
If ye endure chastening, God dealeth with you as with sons; for what son is he whom the father chasteneth not?  But if ye be without chastisement, whereof all are partakers, then are ye bastards, and not sons. Furthermore we have had fathers of our flesh which corrected us, and we gave them reverence: shall we not much rather be in subjection unto the Father of spirits, and live?  For they verily for a few days chastened us after their own pleasure; but he for our profit, that we might be partakers of his holiness. Now no chastening for the present seemeth to be joyous, but grievous: nevertheless afterward it yieldeth the peaceable fruit of righteousness unto them which are exercised thereby.  Wherefore lift up the hands which hang down, and the feeble knees;  And make straight paths for your feet, lest that which is lame be turned out of the way; but let it rather be healed." Hebrews 12:4-13.
Job was a perfect man in chapter one; but he was a more perfect and much wiser man after chapter 42. You too will be better and wiser if you submit to the hand of God.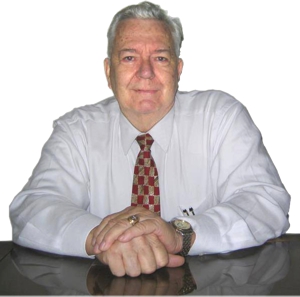 Pastor Ken Blue was born in Boswell, Ark. In 1955 he accepted Christ as his Savior. He and his wife Joyce were married in 1955. They have 5 children. He graduated from Midwestern Baptist Bible College in 1969 and started the Open Door Baptist Church in Lynnwood, Wa. where he pastored for 39 years. Because of health issues (ALS) he was forced to resign as pastor. It is his desire to continue to be used of God to help pastors and believers through this ministry.