SWEETNESS OF THE FORBIDDEN

By Ken Blue
"Stolen waters are sweet, and bread eaten in secret is pleasant." Proverbs 9:17.
Adam and Eve were told not to eat of the tree and were warned that death would follow disobedience. They ate anyway, and both died. What was it that blinded them to abandon all reason and go against common sense? Two attractions came into play. Satan convinced them that eating the forbidden fruit would open their eyes and make them as the gods, knowing good and evil. Secondly, they were given a free will to choose; and the thrill of taking the forbidden was greater than their thoughts of the consequences.
Israel had hundreds of laws resulting from the Ten Commandments. Yet, no nation was more rebellious than Israel. The story in Proverbs, sets before Israel, the choosing of God's wisdom or the wisdom of the world. One choice leads to life, the other leads to death. Israel chooses death. Again, we ask, why would they do that? The answer is in our text.
The purpose of the Law was to show man his own wickedness and inability to keep it.
A herd of wild horses may look tame and normal at a distance, but put a bridle and a saddle on them, and you will discover just how wild they are. Their latent nature comes to the surface. They will kick, bite, buck, and rebel. So it is with a man. A series of messages on "thou shalt not…" will not change the nature or the behavior of man. It will only make his sin nature come alive and expose what is in his heart.
The purpose of the Law was to show man his own wickedness and inability to keep it. "Because the law worketh wrath: for where no law is, there is no transgression." Romans 4:15. (It didn't say, there was no sin; it said, "there was no transgression!) "…I had not known sin, but by the law: for I had not known lust, except the law had said, Thou shalt not covet. But sin, taking occasion by the commandment, wrought in me all manner of concupiscence. For without the law sin was dead. For I was alive without the law once: but when the commandment came, sin revived, and I died. And the commandment, which was ordained to life, I found to be unto death. For sin, taking occasion by the commandment, deceived me, and by it slew me." Romans 7:7-11.
Once the Law has done its work in "slaying" all personal hopes and self-righteousness for salvation, the sinner must then flee to God for mercy and His saving grace. That is its purpose! We must set before people the way of life and the way of death. Wisdom cries in the high places, "There is salvation in the cross of Christ!" The wisdom of the world cries, "There is sweetness and pleasure in secret sin." Both are true. But, sin's customers are unaware that her basement is filled with the corpses of her previous guest.
This was Israel's warning; they could listen to God and be saved, or join with the idolatry and immorality of the land and be destroyed. Israel choose the "stolen waters and the secret bread." However, secret sins are never secret; God sees everything, and the sweetness doesn't last.
"Bread of deceit is sweet to a man; but afterwards his mouth shall be filled with gravel." Proverbs 20:17.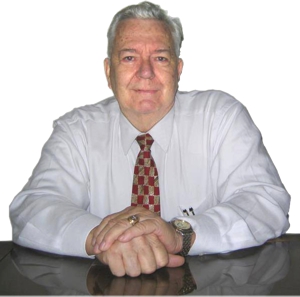 Pastor Ken Blue was born in Boswell, Ark. In 1955 he accepted Christ as his Savior. He and his wife Joyce were married in 1955. They have 5 children. He graduated from Midwestern Baptist Bible College in 1969 and started the Open Door Baptist Church in Lynnwood, Wa. where he pastored for 39 years. Because of health issues (ALS) he was forced to resign as pastor. It is his desire to continue to be used of God to help pastors and believers through this ministry.