By Ken Blue
Mother gathered her embroidery tools next to the old rocking chair;
And like a skilled surgeon, she laid out each item, insuring all was there.
She'd ironed a pattern on the cloth; she'd stretched on embroidery hoops;
Threading the needles with various colors; began her stitches and loops.
I sat on the floor observing each move and contentment on her face.
I could not see the pattern above; she was following with skill and grace.
But from where I sat, I could see no beauty, only frayed ends and knots;
The pattern, to me was without a scheme, and the plan I understood not.
She patted my head and patiently said, "When I'm finished, you'll soon see."
With reassuring voice she said what she did, she was doing just for me.
So as I look upward, from down below, His pattern I cannot see.
But with reassuring words, He whispers and says, "it's all for you; trust Me."
And as skillful hands follow a pattern, unseen by mere mortal man,
We can be sure while we are down here; for us, He has a purpose and plan.
When mother was finished she lifted me up, where I could see;
And what she embroidered I now understood, and she did it just for me.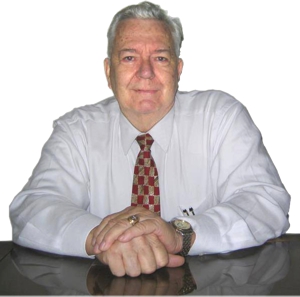 Pastor Ken Blue was born in Boswell, Ark. In 1955 he accepted Christ as his Savior. He and his wife Joyce were married in 1955. They have 5 children. He graduated from Midwestern Baptist Bible College in 1969 and started the Open Door Baptist Church in Lynnwood, Wa. where he pastored for 39 years. Because of health issues (ALS) he was forced to resign as pastor. It is his desire to continue to be used of God to help pastors and believers through this ministry.